Object
Mayo, short for mayonnaise, is a sauce made of olive oil and eggs. It first appears in the episode "Nature Pants."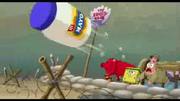 Role in series
Mayo is a frequently used condiment in the SpongeBob SquarePants series. It's sometimes used on Krabby Patties, hence why there is a mayo dispenser kept in the Krusty Krab kitchen.
"Nature Pants"
Upon decision to move out of his house and live with the jellyfish in Jellyfish Fields, SpongeBob gives Patrick his many belongings that he feels he won't be needing anymore, one of which is a mayo pot.
Mr. Krabs tells the Bikini Bottomites the dangerous story of the hooks that have returned to town. He explains that the fishermen reel sea creatures out of the ocean to either sell them in a gift shop or store them in a tuna can, which the only perspective of being in is the scent of mayo.
SpongeBob has trouble opening a jar of mayo. He uses the Conch Signal to call Mermaid Man and Barnacle Boy to help him, though they refuse and tell him that the Conch Signal is not a toy and should only be used for emergency purposes.
Squidward reveals that mayonnaise is not an instrument after Patrick asks if it is.
Harold orders a lot of mayonnaise for his deep-fried Krabby Patty and Squidward thinks him squirting it in his mouth is disgusting.
SpongeBob turns Patrick into mayo after the latter asks him to.
The Jelliens' weakness is mayo. As a result, the replicas are not fond of it. SpongeBob and Sandy make use of mayo to defeat the Jelliens and their Jellien Leader.
Mayo is used as a weapon against Plankton's Tank Robot and for a strange reason all the customers want to hold the mayo from the Krabby Patty.
At the end of the movie, it's also revealed that SpongeBob's pet snail, Gary, hates mayonnaise--SpongeBob uses it as a way to trick Plankton, who was disguised as Gary at the time to steal the formula, by giving him a Krabby Patty with extra mayo.
Mayo appears as a condiment that SpongeBob can add to Krabby Patties in the online game Flip or Flop.
Trivia
The scene in "Band Geeks" where Patrick asks Squidward if mayonnaise is an instrument has become a famous internet meme.
External links
Ad blocker interference detected!
Wikia is a free-to-use site that makes money from advertising. We have a modified experience for viewers using ad blockers

Wikia is not accessible if you've made further modifications. Remove the custom ad blocker rule(s) and the page will load as expected.