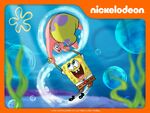 In December 2009, Nickelodeon ordered enough episodes to bring the series up to 178 episodes. Previously, when season seven was announced in March 2008, the number of episodes was brought up to 152 episodes. Season 8 first aired on March 26, 2011 with the episodes "Oral Report" and "A Friendly Game" and ended on December 6, 2012 with "It's a SpongeBob Christmas!" It consists of episodes 153-178. On April 12, 2012 it passed Rugrats, which had 172 episodes, and afterwards became Nickelodeon's longest running cartoon. The season was released in its entirely on DVD on March 12, 2013. Season 8 consisted of 42 11-minute segments and five 30-minute specials.
Title card
#
Title
Airdate
U.S. viewers (millions)

153a
"Accidents Will Happen"
July 18, 2011
Squidward is injured at work and forces Mr. Krabs to pamper him while he recovers.

153b
"The Other Patty"
June 25, 2011
Mr. Krabs and Plankton unite in their dislike of a new eatery called the Flabby Patty.

154a
"Drive Thru"
July 19, 2011
Mr. Krabs finds a creative use for a hole in the Krusty Krab: he transforms it into a drive-thru.

154b
"The Hot Shot"
June 18, 2011
SpongeBob gets driving lessons from the son of a legendary race-car driver.

155a
"A Friendly Game"
March 26, 2011
SpongeBob builds his own mini-golf course in his house.

155b
"Sentimental Sponge"
April 2, 2011
SpongeBob struggles to part with some items because of the memories they evoke.

156
"Frozen Face-Off"
July 15, 2011
Everyone in Bikini Bottom is participating in a worm-sled race to win one million dollars.

157a
"Squidward's School for Grown-Ups"
June 4, 2011
Patrick tries to act mature after he grows a beard.

157b
"Oral Report"
March 26, 2011
SpongeBob is nervous about giving an oral report for Boating School.

158a
"Sweet and Sour Squid"
July 20, 2011
Plankton attempts to strike up a friendship with Squidward in order to get the secret formula.

158b
"The Googly Artiste"
July 21, 2011
Patrick's artwork is coveted by everyone in town after an art critic praises it.

159
"A SquarePants Family Vacation"
November 11, 2011
Patrick goes on vacation with SpongeBob's family to the Great Barrier Reef.

160a
"Patrick's Staycation"
November 8, 2011
SpongeBob comes up with a solution when Patrick cannot afford a vacation.

160b
"Walking the Plankton"
November 7, 2011
Mr. Krabs and SpongeBob go on a free cruise, and Plankton follows them.

161a
"Mooncation"
November 10, 2011
Sandy takes SpongeBob to the moon for a vacation.

161b
"Mr. Krabs Takes a Vacation"
November 9, 2011
Mr. Krabs takes a vacation from work.

162
"Ghoul Fools"
October 21, 2011
SpongeBob and Patrick find a houseboat haunted by ghost pirates.

163a
"Mermaid Man Begins"
September 23, 2011
SpongeBob and Patrick learn the story of their heroes' origins.

163b
"Plankton's Good Eye"
September 23, 2011
Plankton acquires a second eye, which changes his personality, and his vision.

164a
"Barnacle Face"
September 16, 2011
SpongeBob is asked to remove a barnacle from Pearl's face

164b
"Pet Sitter Pat"
September 16, 2011
Patrick watches Gary while SpongeBob attends a birthday party for his grandmother

165a
"House Sittin' for Sandy"
September 30, 2011
SpongeBob agrees to be Sandy's house sitter, but things go wrong when Patrick arrives.

165b
"Smoothe Jazz at Bikini Bottom"
September 30, 2011
SpongeBob and Squidward try to sneak backstage at a concert after losing their passes.

166a
"Bubble Troubles"
November 25, 2011
SpongeBob and Patrick search for oxygen for Sandy after they ruin her supply.

166b
"The Way of the Sponge"
November 25, 2011
SpongeBob works toward getting a karate belt.

167a
"The Krabby Patty That Ate Bikini Bottom"
November 25, 2011
A Krabby Patty grows too large after Mr. Krabs adds Sandy's scientific ingredients to it.

167b
"Bubble Buddy Returns"
November 25, 2011
SpongeBob attempts to keep Bubble Buddy's son out of danger.

168a
"Restraining SpongeBob"
April 2, 2012
A fed-up Squidward resorts to legal action to keep SpongeBob away from him.

168b
"Fiasco!"
April 5, 2012
Plankton mistakenly swipes a piece of art instead of a Krabby Patty.

169a
"Are You Happy Now?"
March 31, 2012
Squidward can't recall his happiest memory, so SpongeBob "helps" him create one.

169b
"Planet of the Jellyfish"
March 31, 2012
SpongeBob and Sandy battle an evil jellyfish who have cloned other Bikini Bottomites.

170a
"Free Samples"
April 6, 2012
Mr. Krabs loses patrons because of Plankton, so he resorts to giving food away for free.

170b
"Home Sweet Rubble"
April 4, 2012
SpongeBob gets his pals to help him fix up his pineapple home, which is in need of repairs.

171a
"Karen 2.0"
April 13, 2012
When Plankton upgrades to Karen 2, the original Karen leaves, and gets a job at the Krusty Krab.

171b
"InSPONGEiac"
April 9, 2012
SpongeBob can't get enough sleep, and asks for help from Patrick.

172a
"Face Freeze!"
July 21, 2012
SpongeBob and Patrick get face freeze after doing too many faces.

172b
"Glove World R.I.P."
April 3, 2012
SpongeBob and Patrick spend a final day at Glove World before it shuts down forever.

173a
"Squiditis"
April 11, 2012
SpongeBob fears he has caught Squidward's illness.

173b
"Demolition Doofus"
July 21, 2012
Mrs. Puff enters SpongeBob into the Demolition Derby, where his bad driving makes him a star.

174a
"Treats!"
April 10, 2012
Gary is eager to indulge in some snail snacks SpongeBob brought home.

174b
"For Here or to Go"
April 12, 2012
Plankton wins a free Krabby Patty, but Mr. Krabs is determined not to let him have one.

175
"It's a SpongeBob Christmas!"
December 6, 2012
Plankton turns everyone in Bikini Bottom bad.

176a
"Super Evil Aquatic Villain Team Up is Go!"
October 14, 2012
Plankton and Man Ray join forces.

176b
"Chum Fricassee"
October 21, 2012
Squidward quits his job, and starts working at the Chum Bucket.

177a
"The Good Krabby Name"
September 3, 2012
Mr. Krabs wants to promote the Krusty Krab, and attract customers.

177b
"Move It or Lose It"
October 21, 2012
Mr. Krabs and Plankton circulate petitions about the bulldozing of a Bikini Bottom restaurant.

178
"Hello Bikini Bottom!"
October 8, 2012
Mr. Krabs takes over as band manager for SpongeBob and Squidward.