Season 11 of SpongeBob SquarePants was announced on February 16, 2016. It will consist of 26 half hour episodes.[2] Season 11 was confirmed to be taking place by Nickelodeon on March 2, 2016.[3] Season 11 premiered with "Spot Returns" and "The Check-Up" on June 24, 2017, and so far more episodes are to be aired.
On May 15, 2017, Vincent Waller released 3 screenshots from a future season 11 episode on Twitter.[4]
On May 16, 2017, Vincent Waller released another screenshot from a future season 11 episode.[5]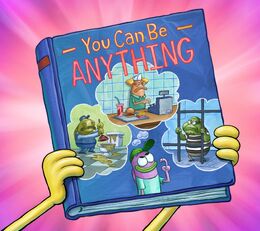 Title card
#
Title
Airdate
U.S. viewers (millions)

216a
"The Clam Whisperer"[6]
TBA

TBD

When a flock of clams descend on Bikini Bottom, SpongeBob has to get them out before they ruin the whole town.

216b
"Cave Dwelling Sponge"[7]
TBA

TBD

When a prehistoric Sponge is unfrozen, he causes chaos all over town – and only SpongeBob can communicate with him!

217a
"Spot Returns"
June 24, 2017

1.96

When his pet amoeba Spot produces offspring, Plankton wants to use them for one of his evil plans.

217b
"The Check-Up"
June 24, 2017

1.96

Mr. Krabs is too afraid of his medical examination, but if he fails it, the Krusty Krab will get closed.

218a
"Spin the Bottle"
July 16, 2017

1.99

Plankton poses as a wish-granting genie in his latest scheme to get the secret formula.

218b
"There's a Sponge in My Soup"[8]
TBA

TBD

Mr. Krabs' new Krabby soup is a hit – until some heat-loving hippies move into the soup vat!

219a
"Larry the Floor Manager"[9]
TBA

TBD

Mr. Krabs takes a vacation and makes Larry the Lobster the temporary manager of the Krusty Krab.

219b
"Man Ray Returns"[10]
TBA

TBD

When Man Ray rents Squidward's house for the weekend, it's up to SpongeBob and Patrick to stop his evil vacation.

220
"The Legend of Boo-Kini Bottom"[11]
October 2017

TBD

The Flying Dutchman wants to make sure SpongeBob and his friends are scared on Halloween.

TBA
"Squid Noir"[12]
November 6-10, 2017[13][14]

TBD

Squidward shows his hard boiled side, while solving a mystery.[15]

TBA
"Doodle Dimension"[16]
TBA

TBD

TBA

TBA
"Teacher's Pest"[17]
TBA

TBD

TBA

TBA
"No Pictures, Please"[18]
TBA

TBD

TBA

TBA
"Stuck on the Roof"[19]
TBA

TBD

TBA

TBA
"Krabby Patty Creature Feature"[20]
TBA

TBD

TBA

TBA
"Bunny Hunt"[21]
TBA

TBD

TBA

TBA
"Sanitation Insanity"[22]
TBA

TBD

TBA

TBA
"ScavengerPants"[23]
TBA

TBD

TBA
Trivia
SpongeBob SquarePants is the first Nicktoon to reach its eleventh season, since Rugrats ended at its ninth season in 2004 and The Fairly OddParents ended at its tenth season in 2017.
References
Ad blocker interference detected!
Wikia is a free-to-use site that makes money from advertising. We have a modified experience for viewers using ad blockers

Wikia is not accessible if you've made further modifications. Remove the custom ad blocker rule(s) and the page will load as expected.