Season 11 of SpongeBob SquarePants was announced on February 16, 2016. It will consist of 26 half hour episodes.[2] Season 11 was confirmed to be taking place by Nickelodeon on March 2, 2016.[3] Season 11 premiered with "Spot Returns" and "The Check-Up" on June 24, 2017, and so far more episodes are to be aired.
On May 15, 2017, Vincent Waller released 3 screenshots from a future season 11 episode on Twitter.[4]
On May 16, 2017, Vincent Waller released another screenshot from a future season 11 episode.[5]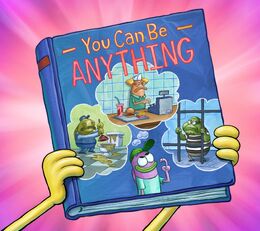 Trivia
SpongeBob SquarePants is the first Nicktoon to reach its eleventh season, since Rugrats ended at its ninth season in 2004 and The Fairly OddParents will end at its tenth season in 2017.
References
Ad blocker interference detected!
Wikia is a free-to-use site that makes money from advertising. We have a modified experience for viewers using ad blockers

Wikia is not accessible if you've made further modifications. Remove the custom ad blocker rule(s) and the page will load as expected.