"We're not getting paid to clean stuff!"

This article is in need of cleanup in order to comply with Encyclopedia SpongeBobia's Manual of Style. Please help this Wiki by making this article clean and tidy!
Please remove this message when finished.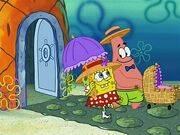 Ever since a We Are Family Foundation video promoting equality was uploaded by Dr. James Dobson in 2005, the SpongeBob SquarePants series sparked mass controversy and lead to thousands of complaints from parents and rumors of the character being gay. However, creator Stephen Hillenburg has since dismissed these rumors and confirmed that the character is asexual. Ever since the series has been an occasional subject of controversy. The following is a list of episodes noted for being involved in public controversies and criticism.