List
This article is a list of things.
A complete list of deleted or edited scenes from SpongeBob SquarePants episodes. A deleted scene is any scene that has been cut out of either an episode from the storyboard version or has been cut out from the episode in airing after the original airing.
Season 1
 Note: User Justme13 is currently looking for evidence of this scene for an upcoming blog. If you find ANY evidence (Pictures, Video, Audio,      Official Scripts, ETC., please send them to me. Your help is appreciated.
Season 2
Season 3
Season 4
Season 5
Season 6
Season 7
Season 8
Season 9
There is a deleted scene included on the
DVD
and
Blu-ray
that can be found in the
Animatics feature
. The deleted scene shows SpongeBob and Patrick meeting Sandy on land. It had probably been cut because of Patrick vomiting many times. In the same deleted scene, Shell City is actually a city and is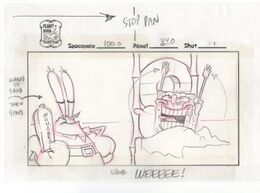 where Sandy constantly getspursued all over the place by squirrel exterminators in black suits. She also mentions that there are buses that arrive here and
Bikini Bottom
. Also, during SpongeBob's awakening in The Goofy Goober Party Boat, he asks for a "double fudge spinny." This line was rejected from the film, but was still used in the
Ice Cream Dreams book
which is loosely based on the movie. There is also a deleted scene where Mr. Krabs appears in SpongeBob's room. This was cut due to save time.
However, the deleted scene of meeting Sandy on the surface was later recycled into the 2nd movie when SpongeBob and friends are surprised by Sandy's superhero ability of being a giant real life squirrel named "The Rodent."
Some scenes that were shown in the trailers and TV spots that did not end up in the final film include: