A complete list of deleted or edited scenes from SpongeBob SquarePants episodes. A deleted scene is any scene that has been cut out of either an episode from the storyboard version or has been cut out from the episode in airing after the original airing.
Season 1
Season 2
Season 3
Season 4
Season 5
Season 6
Season 7
Someone's in the Kitchen with Sandy - Because the makers had to make the story with less confusion, several scenes and lines in this episode were removed from the final version of this episode before it aired. Only one of these were aired, but the rest of the storyboard can be found here.
AIRED

At beginning of this episode, when Plankton emerges from the sesame seed, he uses an inhaler to breathe. He also does this when he gets trapped in Sandy's suit. This was presumably cut because of uses of medicine or teaching toodlers to use an inhaler even if they don't have asthma.
After SpongeBob smells the buns, he says "Nothin' like the smell of that!," then is shown making Krabby Patties. Then, he says "Hmm... which one? This is a special patty for a special someone, so I need a special bun. I better use the scientific method!," plays "Eeny, meeny, miny, moe," and chooses the bun Plankton is in, and exclaims "Bun, you are quite a looker!" before placing on the Krabby Patty. This was probably removed due to time constraints.
There was also a scene in which Sandy took off her bra before taking a shower, and wasn't wearing a bra throughout the rest of the episode. This was cut due to full frontal nudity.
A scene where Plankton is shown testing out his microphone to Karen before going to the Krusty Krab is cut.
SpongeBob originally takes his Labor Agreement Contract out of his mouth.
There was also a scene where, after Sandy's seaweed skirt (and bra in the deleted version), she takes a cone from a construction site, causing an incoming boat to crash into a huge hole being dug by a construction worker. Then, he calls her a thief, and yells "That shaved monkey is makin' off with city property!" Then, she runs to the clothes store, but gets run out by Old Man Jenkins, due to the store having a "no clothes, no service" policy. Then we cut to her running through Bikini Bottom as the episode goes normally.
There was also a scene in which there is a news report on Sandy, and is mistaken for a Sasquatch, before we cut to the park scene.
Finally, when Sandy got the formula out of her suit, it popped out of the eye sockets rather than the mouth in the original version.

Greasy Buffoons - The episode's original plot was where SpongeBob tries to help get Patrick a job at a fast food restaurant that sells greasy items. However, this was eventually scrapped for an unknown reason.
Keep Bikini Bottom Beautiful - This was originally called "Trashman Squidward." They changed it to "Keep Bikini Bottom Beautiful" for an unknown reason.
Kracked Krabs - In some countries, the scene where the judge pulls the trophy out of Mr. Krabs' hands was cut.
A Day Without Tears - The original airing had SpongeBob being "yelled at" by Squidward; Squidward tells SpongeBob "You know there's an old saying, SpongeBob." SpongeBob asks, "What is it?" Squidward answers, "Don't cry over a soiled Krabby Patty. And now may I give you a little word of advice... SHUT UP!" SpongeBob starts crying more. Then, it cuts to the chalkboard scene. This was cut for Squidward's Rudeness.
One Coarse Meal - The original title for this episode was "Plankton Got Served."
The Play's the Thing and Rodeo Daze - In Canada, "The Play's the Thing" and "Rodeo Daze" is listed on the TV guide, but due to the unknown error, "Gramma's Secret Recipe" and "The Cent of Money" plays instead for unknown reason. This issue is fixed later.
Welcome to the Bikini Bottom Triangle - The production name for this episode was "Welcome to the Bermuda Triangle," as seen on some of the original character storyboards on Facebook. To take a look, click here
The Great Patty Caper - The original name for this episode was "Krabby Patty No More," as seen on some of the original character storyboards on Facebook. To take a look, click here
Enchanted Tiki Dreams - Sandy was originally going to be in this episode, but she was removed out of the final version of the episode to save time.
New Fish in Town - The original airing had SpongeBob clapping his hands after Patrick hits the sign and breaks it. This was cut for unknown reasons.
Season 8
Season 9
There is a deleted scene included on the
DVD
and
Blu-ray
that can be found in the
Animatics feature
. The deleted scene shows SpongeBob and Patrick meeting Sandy on land. It had probably been cut because of Patrick vomiting many times. In the same deleted scene, Shell City is actually a city and is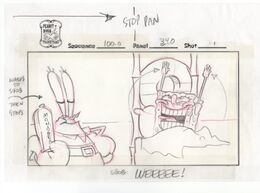 where Sandy constantly gets pursued all over the place by squirrel exterminators in black suits. She also mentions that there are buses that arrive here and
Bikini Bottom
. Also, during SpongeBob's awakening in The Goofy Goober Party Boat, he asks for a "double fudge spinny." This line was rejected from the film, but was still used in the
Ice Cream Dreams book
which is loosely based on the movie. There is also a deleted scene where Mr. Krabs appears in SpongeBob's room. This was cut due to save time.
However, the deleted scene of meeting Sandy on the surface was later recycled into the 2nd movie when SpongeBob and friends are surprised by Sandy's superhero ability of being a giant real life squirrel named "The Rodent." It was cut to either avoid confusion or surprise everyone in the 2nd movie.
Some scenes that were shown in the trailers and TV spots that did not end up in the final film include:
A cameo appearance by Saul Hudson as a street musician.
SpongeBob flying in the sky.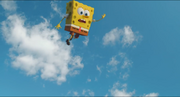 A shot of Mr. Superawesomeness's (Patrick's) pants ripping off revealing his underdrawers with him saying, "Nothin' to see here."
A shot of SpongeBob saying, "Maybe you should get that checked out" cutting to reveal Patrick has a hole in his head saying, "Why?" this was removed for unknown reasons.
Sour Note plays his clarinet and makes farting noses.
Burger-Beard throws a 6-pack can holder at Sour Note and he gets tangled by it.
Beach girl holding a 3 scoops ice cream cone.
SpongeBob and friends singing "Thank Gosh It's Monday."
A line of SpongeBob on the surface saying "Clean it up just clean it up."
Burger-Beard explains that the Magic Book's powers can only be activated by having the Krabby Patty formula. However, that idea became scrapped. Now things can come true by re-writing the story even without the formula.
In one version of the scene where Patrick (not as Mr. Superawesomeness) eats the ice cream, it is on a beach, not in the kid's hand.
A scene of Burger-Beard the Pirate in his ship, telling his seagulls a story about him when he was younger. This was probably cut to save time.
SpongeBob and Plankton time-traveling to the Mesozoic era, where they encounter Patrickosaurus and Squidasaurus Rex. This scene was taken out of the movie but in the video game, our heroes encounter both dinosaurs.

Another time traveling scene had SpongeBob and Plankton visit Bikini Bottom, but the citizens are robots. But it was cut for unknown reasons.

One part shows Mr. Krabs serving Nasty Patties to the customers. This was cut because it would not look pretty if a customer actually ate one after all these years.
A car chase scene with SpongeBob and Plankton and ends with SpongeBob receiving an F- from Mrs. Puff after crashing. This was cut for unknown reasons.
A Montage of Mr. Krabs thoroughly cleaning SpongeBob's brain, similar to "Brainwashing," this was cut to save time.
Plankton telling SpongeBob to make Krabby Patties by using his muscles at the Taco Haüs. This was scrapped and instead replaced with SpongeBob, Plankton, and Karen building a Time Machine with using stuff inside Taco Haüs.
References