"It's Squidward, silly!"

This article is in need of one or more better quality images. Please help Encyclopedia SpongeBobia by uploading a better image or editing the current image.
Please remove this message when finished.
Many characters of
SpongeBob SquarePants
have held antagonistic roles in various episodes, even though they are normally portrayed as heroes, or at the very least, not villainous. This is a list of antagonistic traits shown by otherwise good characters. This list doesn't include
Plankton
, the
Flying Dutchman
,
Man Ray
,
Dirty Bubble
,
Bubble Bass
, or any other characters who are already evil most of the time.
Antagonism is behavior that purposefully hinders the other character or characters from getting what they want.
Any episodes in bold are where a character serves as the main antagonist of that episode.
Any episodes in underlining are where an antagonism may or may not be an antagonism, such as if it was simply an accident, retaliation, or self-defense.
| Character | Antagonisms (all) | Main Antagonisms |
| --- | --- | --- |
| SpongeBob SquarePants | 49 | 2 |
| Patrick Star | 55 | 18 |
| Squidward Tentacles | 60 | 31 |
| Eugene H. Krabs | 86 | 27 |
| Sandy Cheeks | 15 | 4 |
| Gary | 6 | 1 |
| Pearl Krabs | 9 | 1 |
| Mrs. Puff | 7 | 2 |
| Barnacle Boy | 2 | 0 |
| Patchy the Pirate | 6 | 0 |
| Potty the Parrot | 3 | 0 |
| King Neptune | 2 | 0 |
| Larry the Lobster | 2 | 0 |
| Bikini Bottomites | 54 | 4 |
SpongeBob SquarePants
Keep in mind, SpongeBob is usually a good person with an overwhelming sense of optimism and magnanimity, but these traits do not mean that he is safe from antagonism, including being annoying. He can cause very bad things to happen and can sometimes make the situation even worse.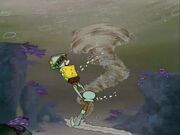 Patrick Star
Although he is unintelligent and is usually carefree, magnanimous, and generally detached, Patrick has frequently acted cold, shrewd, selfish, and even psychotic at times. He will ignore rules and warnings to do whatever he wants resulting in trouble. Patrick can be very dangerous when angry.
In the original series, he was a lot kinder and more well-meaning despite being unpleasant at times, but in the Paul Tibbitt series his personality became exaggerated and now, he has become significantly more antagonistic (and also a lot dumber than he was previously). In later seasons, he has been redeemable.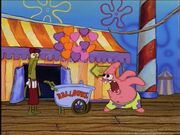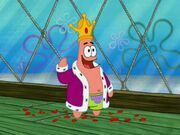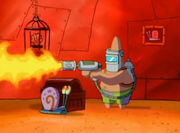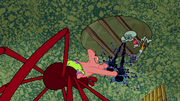 Squidward Tentacles
Squidward has a considerable but not really evil antagonistic side (due to having been nice to SpongeBob before), frequently taking advantage of the situation to stop SpongeBob from tormenting him. He is often treated as unfair and arrogant by citizens of Bikini Bottom and can scare them away with his terrible clarinet playing.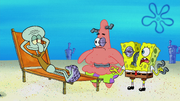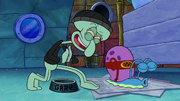 Eugene H. Krabs
Mr. Krabs has an extremely prevalent antagonistic side and plays a villainous role due to his extreme greed mostly because he's the villain side in conning and criminality as well as committing illegal misdemeanors and felonies at occasions. He is even called a second antagonist by Stephen Hillenburg.
In the original series, he was a lot kinder and more friendly but still somewhat greedy, but in the Paul Tibbitt era, his personality became exaggerated and now, he has become significantly more greedy and abusive. But when season nine came along, even to the fact that the show's creator Stephen Hillenburg came back, his abusive and greedy nature was toned down due to negative reviews of episodes such as "One Coarse Meal" for one example.
When it comes to his business rival, Plankton, he takes pure joy in his suffering and refuses to let him have any form of happiness. He goes as far as being the aggressor without Plankton even plotting to steal the formula. He even breaks boundaries Plankton doesn't.
He breaks several worker's rights laws as if they are nonexistent to him. He'll bill his employees instead of giving them their paychecks, have them replaced when they go on strike, pay them with fake money, make them work 24 hours a day, drag them into work early, put them in bad working conditions, claim their prize money as his own, and force them into labor even outside of work.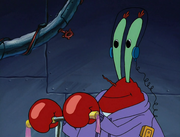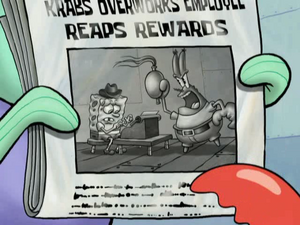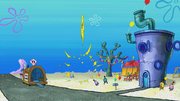 Sandy Cheeks
While generally friendly, benevolent and positive, Sandy is prone to mood swings and can be vicious when angered. She is especially a threat when someone insults her hometown.
Gary the Snail
Though Gary is intelligent and loves his owner, SpongeBob, he can be naughty at times, sometimes in his rivalry with Squidward.
Although Pearl usually doesn't cause issues, some of her decisions lead to large and severe problems. She has shown similar traits to Patrick's antagonism: selfishness, lack of consideration of others, and lack of remorse. Sometimes she can be more selfish than Mr. Krabs.
Mrs. Puff
Mrs. Puff
is usually kind, but she can reach her breaking point when SpongeBob annoys her too much. She has used extreme methods to get rid of SpongeBob. Her antagonisms is similar to Squidward's, as they both hate SpongeBob.
Barnacle Boy
Although Barnacle Boy is a superhero, he has be shown to be a nasty person at times.
Even though Patchy is a SpongeBob fan, some of his schemes are known to be vulgar, diabolical and unlucky. He can also be very mean to Potty when he is annoyed with him.
Even though Potty is a friend of Patchy, he can be obnoxious and is normally annoying to Patchy.
King Neptune
King Neptune is often harsh and unfair towards his citizens, due to his bad temper and severe punishments given to his prisoners. Also, he gets very apoplectic when somebody messes with his crown.
Larry the Lobster
Larry is very passionate about having a healthy diet and exercise, but sometimes his passion for a healthy lifestyle can sometimes cause him to be inconsiderate of what is around him.
Bikini Bottomites
The Bikini Bottomites are the citizens who appear randomly in Bikini Bottom as recurring characters. Many do not consider them antagonists, but they have been shown to have antagonistic sides throughout the series. Often they will go to extreme lengths to teach someone a lesson. They are also shown to be hypocritical on occasion. The law is no different, as unlawful punishments, kangaroo courts, and unfair and unnecessary arrests take place. Harold is considered the most antagonistic citizen.
Trivia