"It's Squidward, silly!"

This article is in need of one or more better quality images. Please help Encyclopedia SpongeBobia by uploading a better image or editing the current image.
Please remove this message when finished.
"We're not getting paid to clean stuff!"

This article is in need of cleanup in order to comply with Encyclopedia SpongeBobia's Manual of Style. Please help this Wiki by making this article clean and tidy!
Please remove this message when finished.
Many characters of SpongeBob SquarePants have held antagonistic roles in various episodes, even though they are normally portrayed as heroes, or at the very least, not villainous. This is a list of antagonistic traits shown by otherwise good characters. This list doesn't include Plankton, the Flying Dutchman, Man Ray, Dirty Bubble, Bubble Bass, or any other characters who are already evil most of the time.
Antagonism is behavior that purposefully hinders the other character or characters from getting what they want.
Any episodes in bold are where a character serves as the main antagonist of that episode.
Any episodes in underlining are where an antagonism may or may not be an antagonism, such as if it was simply an accident, retaliation, or self-defense.
| Character | Antagonisms (all) | Main Antagonisms |
| --- | --- | --- |
| SpongeBob SquarePants | 49 | 2 |
| Patrick Star | 53 | 18 |
| Squidward Tentacles | 59 | 28 |
| Eugene H. Krabs | 85 | 27 |
| Sandy Cheeks | 15 | 4 |
| Gary | 6 | 1 |
| Pearl Krabs | 9 | 1 |
| Mrs. Puff | 7 | 2 |
| Barnacle Boy | 2 | 0 |
| Patchy the Pirate | 6 | 0 |
| Potty the Parrot | 3 | 0 |
| King Neptune | 2 | 0 |
| Larry the Lobster | 2 | 0 |
| Bikini Bottomites | 52 | 4 |
SpongeBob SquarePants
Keep in mind, SpongeBob is usually a good person with an overwhelming sense of optimism and magnanimity, but these traits do not mean that he is safe from antagonism, including being annoying. He can cause very bad things to happen and can sometimes make the situation even worse.
In "Ripped Pants," he annoys everyone by repeatedly ripping his pants, continuing to do this after the joke becomes old. Later, he even uses drowning just to make another joke.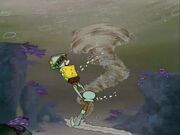 In "Pizza Delivery," after getting lost in the desert due to his poor driving, he and Squidward are on the verge of starvation, but he repeatedly refuses to let Squidward eat the pizza they were delivering. He also refuses to let go of it at the risk of them both being sucked into a tornado.
In "Sandy's Rocket," SpongeBob, convinced by Patrick about the existence of aliens, hijacks Sandy's spaceship, and ends up joining him in catching every Bikini Bottomite (who they misinterpret as aliens) with Sandy's net gun, including Sandy. Afterwards, SpongeBob suspects Patrick of being an alien, getting him to shoot himself with the gun.
In "Opposite Day," he and Patrick break into Squidward's house and later annoy Squidward's realty agent to the point where she refuses to let him sell his house.
In "Employee of the Month," he destroys Squidward's alarm clocks, hoping to get him to wake up late. He then sets up a bunch of traps for Squidward while running back to the Krusty Krab. He also ends up destroying the Krusty Krab while trying to prove himself a better employee than Squidward by competing in a cook-off in which they flip as many Krabby Patties as possible.
In "Walking Small," he accidentally helps Plankton to drive everyone away from the beach so that he can build the Mega Bucket.
In "Mermaid Man and Barnacle Boy II," he attacks the Atomic Flounder even though he's retired, making him angrily incinerate Barnacle Boy's face. This may not be antagonism because he took Mermaid Man's joking remark about the Flounder "going back to crime" literally.
In "Dying for Pie," SpongeBob, for unknown reasons, performs open-heart surgery on Squidward and pokes it, making it squirt out blood. When Squidward asks SpongeBob if he's sure he should be poking his heart, SpongeBob arrogantly asks who's the doctor here, even though he clearly has no knowledge on how to be a doctor.
In "Squirrel Jokes," he performs insult comedy about squirrels. Although Sandy asks him to stop, SpongeBob disregards her request and continues to do so for his career.
In "Pressure," he makes fun of Sandy for being a land creature. SpongeBob also causes Sandy to take off her helmet as they still were making fun of her without caring, which almost causes her to suffocate to death.
In "Gary Takes a Bath," because Gary resists taking a bath, SpongeBob goes to the extreme measures of making the bath come to him, which involves him soaking up the water in the bath and spitting it at Gary, though it fails and SpongeBob ends up having to take a bath instead.
In "The Secret Box," SpongeBob, disguised as a burglar, breaks into Patrick's rock and steals his secret box even though Patrick tells him that he is not allowed to see his box.
In "Sailor Mouth," he and Patrick use foul language. May not count as antagonism because they didn't know they were using foul language.
In "Sandy, SpongeBob, and the Worm," he threatens to trip Sandy if she does not admit that he was right while both are running for their lives from the Alaskan Bull Worm.
In "Just One Bite," he forces Squidward to eat a Krabby Patty, even though Squidward does not want to. SpongeBob then annoys and stalks Squidward until he gives in.
In "Nasty Patty," he gleefully helps Mr. Krabs create a tainted patty to poison the health inspector.
In "Mermaid Man and Barnacle Boy IV," after Mermaid Man leaves his belt at the Krusty Krab, after only one attempt to return the belt, SpongeBob decides, even though he thinks otherwise, to keep the belt until after work. He then proceeds to play with the shrinking device. When Squidward (rightfully) attempts to call Mermaid Man to tell on SpongeBob, he shrinks him out of desperation. He selfishly ignores Squidward's demands to get Mermaid Man's help, fearful that Mermaid Man will kick him out of his fan club. He eventually shrinks everyone in Bikini Bottom, still fearful that they will tell Mermaid Man on him (he ironically shrinks Mermaid Man himself later on).
In "Can You Spare a Dime?," SpongeBob grabs Mr. Krabs by the throat and shakes him furiously.
In "Krab Borg," when he thinks that Mr. Krabs was a robot after watching a robot horror movie, he tries to find evidence that he was a robot by calling him (from the steps of being a robot) to Squidward. When Squidward believes Mr. Krabs is a robot too (by a minor incident involving Mr. Krabs getting salt in his eyes, the tongs in his hand and the batteries in his pocket), they make a truce to torture him, especially by destroying his objects aside from Cashy. But after being asked by Squidward how the movie ended, SpongeBob felt guilty and abandons Squidward, getting him in trouble with Mr. Krabs.
In "Party Pooper Pants," he cuts off Squidward's house cables in order to get him to the party and scolds anyone who would mess the schedule. When SpongeBob gets locked out and interprets his party ruined, he tries to ruin it (oblivious that they were having fun).
Patrick Star
Although he is unintelligent and is usually carefree, magnanimous, and generally detached, Patrick has frequently acted cold, shrewd, selfish, and even psychotic at times. He will ignore rules and warnings to do whatever he wants resulting in trouble. Patrick can be very dangerous when angry.
In the original series, he was a lot kinder and more well-meaning despite being unpleasant at times, but in the Paul Tibbitt series his personality became exaggerated and now, he has become significantly more antagonistic (and also a lot dumber than he was previously). In later seasons, he has been redeemable.
In "Tea at the Treedome," Patrick's fancy advice gets SpongeBob dehydrated in Sandy's treedome. As Patrick was manually helping SpongeBob, he soon becomes dehydrated as well. Him drying out is karma, but his actions can be forgivable since he is at least trying to help his friend.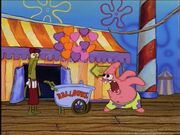 In "Valentine's Day," after SpongeBob fails to produce a gift for Patrick (which was in reality due to scallops attacking and stalling Sandy's chocolate balloon, which was his intended gift), he concludes that SpongeBob must hate him (especially after finding out that SpongeBob gave gifts to everyone else, including somebody he had just met that morning) and goes on a violent rampage throughout the carnival, and even noisily eats a terrified child's lollipop in front of him. He eventually corners everyone (including SpongeBob and all the innocent bystanders) at the end of boardwalk, seemingly with the intention of killing them. Once Sandy shows up, Patrick realizes that SpongeBob had indeed gotten him a gift and his anger is forgotten.
In "Hooky," he puts SpongeBob in danger by playing in the hooks, ignoring repeated warnings from Mr. Krabs not to do so. Karma got him when he was caught and placed in a tuna can.
In "Life of Crime," he accuses SpongeBob of eating his chocolate bar (even though he had just eaten his own a moment earlier). He then threatened to tell the police on SpongeBob.

In "Dumped," he became selfish to SpongeBob after he got Gary (though Gary was only into him for his cookie in the pocket) and shows no remorse for doing so. This is the first time in the series to portray Patrick as a villain.
In "I'm Your Biggest Fanatic," he touched stuff in the convention even though the police told him not too and also captured Jeffrey Jellyfish, even though he told SpongeBob that hero worship is unhealthy.
In "Pressure," he, SpongeBob, Squidward, and Mr. Krabs made fun of Sandy to show that sea creatures are better than land creatures.
In "I'm with Stupid," SpongeBob volunteered to act stupid around Patrick's parents in an attempt to improve their opinion of Patrick. However, Patrick takes the act too far, to the point where he actually begins to believe that SpongeBob really is stupid. All the teasing and embarrassment from Patrick and his "parents" eventually proves too much for SpongeBob, who runs away screaming and crashes through the wall of Patrick's house.
In "Sailor Mouth," he and SpongeBob use foul language. This may not count as antagonism since they didn't know they were using bad words.
In "Sandy, SpongeBob, and the Worm," he makes everybody push Bikini Bottom somewhere else, making the worm fall on the city, crushing everybody except SpongeBob, Sandy, and possibly a few Bikini Bottomites since the worm bites off one fish's (who is clearly not pushing the city) buttocks again. Considering the danger the worm could bring to the city, this action could be justified.
In "Club SpongeBob," after weeks of starvation, SpongeBob and Patrick are presented with food from a falling aircraft. Patrick is oblivious of Squidward's interest in eating the smoked sausages, consuming them as Squidward sniffs them. He and SpongeBob then take away the table of food from Squidward before he even took a bite. When the conch refused to let Squidward eat, Patrick tried asking it if Squidward could have a sandwich. He then asks if he could have it, with the conch saying yes. If the conch was automatic, Patrick took away Squidward's chance of having something to eat.
In "Rock-a-Bye Bivalve," he fails to do his fair share of work in taking care of the baby scallop, claiming that he's too tired from work. Each night, he promises to assume responsibility for the baby the following night, but repeatedly fails to do so, even when SpongeBob shows him the obscene amount of diapers he has to change. At midnight, SpongeBob finds out that "work" consists of Patrick watching TV under his rock, eating junk food, and neglecting Junior.
In "New Student Starfish," he drew a cruel picture of Mrs. Puff and passed it on SpongeBob's desk, making her think SpongeBob was responsible for the picture, which made him cost one of SpongeBob's "Good Noodle Stars," and made SpongeBob sit in the back of the classroom. While SpongeBob was sitting in the back, he throws things at him and fires spitballs at him to get his attention, just to say "hi," making SpongeBob angrier, but this only gets him into more trouble with Mrs. Puff. Later in the corridor, he tells SpongeBob that he finds it funny, making SpongeBob lash out at him. He clearly does not care that he got SpongeBob into trouble because he angrily responds, "Who cares about a stupid star?" Despite this, during detention, he finally shows remorse for what he did, when the light bulb warming Roger dies out. This is probably Patrick's second most antagonistic role.
In "Mid-Life Crustacean," he and SpongeBob got Mr. Krabs in trouble with his mother for the panty raid they did in her house. He also did not tell Mr. Krabs that they were in his mother's house. Unlike SpongeBob, it is unknown if Patrick felt remorseful for what he did to Mr. Krabs but it's possible he felt remorseful as well.
In "Pranks a Lot," he and SpongeBob trespassed and scared everyone, and attempted to burn Mr. Krabs' money. However, when Krabs doused the fire, they were busted nude. Though Krabs claimed he was okay with it, SpongeBob and Patrick got punished by being seen nude in public shown by Mr. Krabs, which viewers are the people the two pranked.
In The SpongeBob SquarePants Movie, Patrick, bragging about SpongeBob's capabilities, reduces SpongeBob's required days to get King Neptune's crown from 10 to 6, making SpongeBob and Mr. Krabs to clobber him and Mr. Krabs to strangle him. He tries to further reduce the required days to 5 while getting strangled by Mr. Krabs, even after King Neptune has already settled for 6 days. This action would be forgivable, if it wasn't for the punishment that would be inflicted making it past the deadline.
In "Wigstruck," he attacks SpongeBob because he thought that SpongeBob's wig was a monster. A similar case also happened in "The Good Krabby Name."
In "Hocus Pocus," he tries to eat the ice cream cone that SpongeBob believes is Squidward. Even after SpongeBob reveals this Patrick's only response is to eat it faster citing that the octopus turned ice cream tasted good.
In "Driven to Tears," he eats SpongeBob's flash cards, making him fail. Then he attends Mrs. Puff's boating school, suspecting that Mrs. Puff was setting up SpongeBob's tests so he would constantly flunk, and passes almost effortlessly. Afterward, he rubs his license in SpongeBob's face every chance he gets, ridiculing SpongeBob and calling himself a "driving genius" (despite having ran red lights and made dangerous U-turns); SpongeBob finally gets sick of it and destroys his license, Patrick is arrested for littering and sentenced to prison time (which would never happen in real life). However, SpongeBob confesses to the "crime" and takes Patrick's place in jail. The two friends reconcile when SpongeBob is released from prison.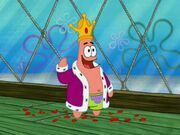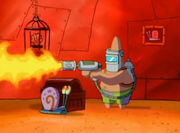 In "Krusty Katering," he selfishly keeps and seeks to keep all of the Krabby Pâté for himself, and goes on a rampage like a wild animal.
In "Sanitation Insanity," he impulsively refused to give SpongeBob and Squidward his trash cans and engages them in a trash fight. However, their reckless fighting causes them to spread trash all over Bikini Bottom. As punishment, he, Mr. Krabs, SpongeBob, and Squidward were sentenced to many hours of community service by picking up trash. However, he was not seen picking up trash with the others at the end.
In "Ink Lemonade," he intentionally keeps scaring Squidward in attempt to get his ink for black lemonade, even having no remorse when Squidward becomes paranoid due to Mildred the sea spider. This is Patrick's second biggest antagonism in the series.
Squidward Tentacles
Squidward has a considerable but not really evil antagonistic side (due to having been nice to SpongeBob before), frequently taking advantage of the situation to stop SpongeBob from tormenting him. He is often treated as unfair and arrogant by cizitens of Bikini Bottom and can scare them away with his terrible clarinet playing.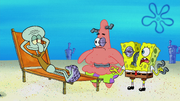 Eugene H. Krabs
Mr. Krabs has an extremely prevalent antagonistic side and plays a villainous role due to his extreme greed mostly because he's the villain side in conning and criminality as well as committing illegal misdemeanors and felonies at occasions. He is even called a second antagonist by Stephen Hillenburg.
In the original series, he was a lot kinder and more friendly but still somewhat greedy, but in the Paul Tibbitt era, his personality became exaggerated and now, he has become significantly more greedy and abusive. But when season nine came along, even to the fact that the show's creator Stephen Hillenburg came back, his abusive and greedy nature was toned down due to negative reviews of episodes such as "One Coarse Meal" for one example.
When it comes to his business rival, Plankton, he takes pure joy in his suffering and refuses to let him have any form of happiness. He goes as far as being the aggressor without Plankton even plotting to steal the formula. He even breaks boundaries Plankton doesn't.
He breaks several worker's rights laws as if they are nonexistent to him. He'll bill his employees instead of giving them their paychecks, have them replaced when they go on strike, pay them with fake money, make them work 24 hours a day, drag them into work early, put them in bad working conditions, claim their prize money as his own, and force them into labor even outside of work.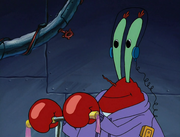 In "Patty Caper," he stole the secret ingredient of the secret formula, so he wouldn't have to pay for delivery ($1.99) and he tried to frame SpongeBob for it without letting him say a word (while holding the ingredient of the secret formula). As punishment by court, he was forced to sell free Krabby Patties all day and watching it all go down.
In "Plankton's Regular," he doesn't want Plankton to have one single customer, despite Plankton telling him he would no longer try to take his secret formula. At the end, when the fish is revealed to have been paid by Karen to visit the Chum Bucket, Krabs sadistically laughs at Plankton's misery.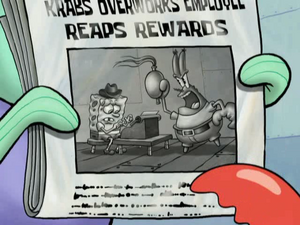 In "Out of the Picture," he attempts to get Squidward far away from Bikini Bottom by having him deliver food to places far away from the Krusty Krab so he can buy his art. However, with SpongeBob's help, Squidward manages to get back before Mr. Krabs can buy his art. After failing to get Squidward away, he goes crazy enough to the point of trying to murder Squidward, but he is tricked and manipulated by an art appraiser. His actions are incredibly unforgivable.
In "Spin the Bottle," Mr. Krabs selfishly demands the bottle to use it for corruptive matters.
In "There's a Sponge in My Soup," he grabs some rotten food from the trash cans in order to make the Krabby Soup.
In "Sanitation Insanity," he cared less about the punishment he got from the trash inspectors and forces SpongeBob and Squidward to clean up the mess for him. Soon, he got involved with their trash fight with Patrick. Luckily, the trash inspectors puts their fight to a stop and Mr. Krabs sadly accepts the punishment by helping SpongeBob, Patrick, and Squidward clean up the trash.
In "Pat the Horse," he forced Patrick to carry a lot of kids on his back to make money. He even did the same thing with Squidward and bragged SpongeBob that his horse is better than Patrick. He and SpongeBob challenged to a race to see who gets to deliver the food to a customer at Black Devil Bay first. During the race, he cheated in hopes of winning even though Sandy told them not to, which means that Mr. Krabs doesn't want to play fair. He even impersonated an officer during the race which almost lead him to getting arrested by the police. He eventually won the race.
In "Bottle Burglars," he stuffs both SpongeBob and Squidward in the safe of the Krabby Patty formula as his "new security system." Yet another time he abuses his workers.
Sandy Cheeks
While generally friendly, benevolent and positive, Sandy is prone to mood swings and can be vicious when angered. She is especially a threat when someone insults her hometown.
In "Texas," she tried to lasso SpongeBob and Patrick when they insulted Texas.
In "Prehibernation Week," SpongeBob couldn't take the extreme activities that he was doing with Sandy. He got scared and hid under Patrick's rock. Sandy overreacts as she assumes something terrible must have happened to SpongeBob and she forces everybody in Bikini Bottom to form an unnecessary search party for him and refuses to let them go home unless they find him. After they distract Sandy and escape, she nearly destroys the town looking for SpongeBob. This is the first time in the series that Sandy is portrayed as a villain.

In "Survival of the Idiots," while half asleep, she beat up SpongeBob and Patrick and put them into graves after mistaking them for Dirty Dan and Pinhead Larry, who were two people in her dream of Texas Outlaws. Sandy is also extremely mad at SpongeBob and Patrick when they removed her fur and she used them as coverings to stay warm. This is Sandy's second most villainous role.
In "Squirrel Jokes]]," she pretends to be dumb and nearly dehydrates SpongeBob. While she only does this to teach him a lesson, this is considered too much since she could've killed SpongeBob.
In "Pressure," upon being made fun of by SpongeBob, Patrick, Squidward, and Mr. Krabs, Sandy made them go up dry land for 1 minute, and they are attacked by seagulls.
In "The Great Snail Race," she kicked SpongeBob's butt at the end of the episode for making a sexist comment.
In "Patrick SmartPants," she scolds Patrick for his smart skills.
In "To Save A Squirrel," SpongeBob and Patrick had to go through torture that Sandy created to survive after Sandy said that she had to go to a survival training camp, when she was really testing their survival skills. SpongeBob and Patrick were lost in the woods with food, water, and a tent. Patrick burned the 2-week supply of food to make their fire and their tent burned down. SpongeBob had to use all the water from the canteen to put out the fire. Then they eventually got so desperate that they almost ate each other. The cave fish turned out to actually be Sandy, who gave them their survivalist medals and revealed that she was just testing their survival skills. This is Sandy's biggest antagonism in the series.
In "To SquarePants or Not to SquarePants," she teased SpongeBob by calling him SpongeBob UnderPants, which causes him to scream at the end of the episode. Though she could be joking.
In "Tentacle-Vision," she disrupts Squidward's show with her dancing.
In "Rodeo Daze," Sandy attacked SpongeBob and Patrick because she thought they were planning to get her. After she finds out that they were just delivering a letter to her, she didn't bother to apologize for attacking them by mistake. During the convers

ation afterward, Sandy acts rude to SpongeBob.
In "Whelk Attack," she wouldn't let SpongeBob and Patrick inside her Treedome for protection from the whelks because she thought they were whelks in disguise. She eventually did after they proved they were the genuine article.
In "Kenny the Cat," she proves to the crowd that Kenny couldn't hold his breath for that long, and apparently she was proven right, for it ruined the moment of Kenny making people happy, and the Bikini Bottomites turned against him. He was later sent back to the surface world. This is Sandy's third most villainous role.
In "SpongeBob You're Fired," she experiments on people by making them eat toxic food which causes one person to be allergic to the food, and causes Patrick to mutate.
In "Sandy's Nutmare," she gets wrapped up in her Nutty Butter, and ignores warnings from SpongeBob about her tree. She even attempts to use her fertilizer again even after seeing the tree looking bad. When the Shalmon tells her that the business is hurting her tree, Sandy realizes her mistake and quits the business.
Gary the Snail
Though
Gary
is intelligent and loves his owner, SpongeBob, he can be naughty at times, sometimes in his rivalry with Squidward.
In "Gary Takes a Bath," he refuses to take a bath and takes SpongeBob's ladder away.
In "Once Bitten," he becomes aggressive and bites pretty much everybody in Bikini Bottom, even SpongeBob, and was accused of having "Mad Snail Disease" (although it was revealed he had a splinter stuck in his body). Even after the splinter was removed, he bit Mr. Krabs.
In "The Thing," it is revealed that he hates Squidward, and one time he viciously attacks him.

In "Grooming Gary," he riots because SpongeBob, and other pet owners, had made him "fancy," which he did not want to be.
In "Treats!," he constantly bothers SpongeBob by asking him to get more Snail Bites, even going so far as to make him go to every pet store in the world to see if they had them.

In "Gary's New Toy," he became so distracted in his ball, Gary disregarded SpongeBob whenever he needed him, though this is because the ball hypnotizes him. As SpongeBob tries to place the ball away from Gary, he manages to get it back. When it came to the decision that SpongeBob tells Gary either him or the ball, Gary went for the ball, leaving his owner to cry.
Although Pearl usually doesn't cause issues, some of her decisions lead to large and severe problems. She has shown similar traits to Patrick's antagonism: selfishness, lack of consideration of others, and lack of remorse. Sometimes she can be more selfish than Mr. Krabs.
Mrs. Puff
Mrs. Puff
is usually kind, but she can reach her breaking point when SpongeBob annoys her too much. She has used extreme methods to get rid of SpongeBob. Her antagonisms is similar to Squidward's, as they both hate SpongeBob.
In "Hall Monitor," when she realizes that SpongeBob is the new hall monitor, repeatedly tries to choose another hall monitor.
In "No Free Rides," Mrs. Puff lets SpongeBob pass by giving him extra credit and steals his new boat later in the episode.
In "The Bully," Mrs. Puff threatens to kick SpongeBob's butt after seeing Flats unconscious near SpongeBob.
In "Doing Time," Mrs. Puff gets arrested for SpongeBob's reckless driving.

In "Oral Report," Mrs. Puff tries to arrest SpongeBob but gets arrested herself.
In "Demolition Doofus," Mrs. Puff tries to murder SpongeBob after he causes her another accident and fools him into signing up for a car crashing event. She also gets very frustrated when SpongeBob doesn't get hit by any of the other drivers and tries to kill SpongeBob herself. This is Mrs. Puff's biggest antagonism in the series and also the darkest plot in the entire series, getting the episode rated PG when it premiered in Canada.
In "Burst Your Bubble," she screams at SpongeBob and says: "Get out! You're never getting a driver's license. Never! Never!!!"
In "Teacher's Pests," she takes the apple tree that Plankton grew and knocks him and Mr. Krabs out with it.
Barnacle Boy
Although Barnacle Boy is a superhero, he has be shown to be a nasty person at times.
In "Mermaid Man and Barnacle Boy II," he denied SpongeBob of using the Conch Signal and calling him a hero and tells Mermaid Man that they should ditch him (since he caused trouble to them during the middle of the episode), but changes his mind after SpongeBob saves him from the Dirty Bubble.
In "Mermaid Man and Barnacle Boy V" after being fed up of being treated like a child, Barnacle Boy joins the dark side and renames himself "Barnacle Man."
Even though Patchy is a SpongeBob fan, some of his schemes are known to be vulgar, diabolical and unchancy. He can also be very mean to Potty when he is annoyed with him.
Even though Potty is a friend of Patchy, he can be obnoxious and is normally annoying to Patchy.
In "Christmas Who?," at the end of the episode, he repeatedly tries to kiss Patchy under the mistletoe, despite Patchy's protests. He also eats all of Patchy's cookie dough.
In "Shanghaied," he lures Patchy into a cannon and blasts him to a nearby house.
In "Ugh," he ruins Patchy's caveman show by wearing a futuristic robot costume and bringing in a robot that eventually goes on a rampage. At the end of the episode, he gives Patchy a t-rex as a "gift". He also causes destruction with his lasers. This can be Potty's biggest antagonism in the series.
King Neptune
King Neptune is often harsh and unfair towards his citizens, due to his bad temper and severe punishments given to his prisoners. Also, he gets very apoplectic when somebody messes with his crown.
In "Neptune's Spatula," he didn't believe SpongeBob pulled the spatula until Patrick told him. Neptune then fried Patrick until the he was dead (although he semi-restored him.) During the challenge, Neptune made more patties than SpongeBob and called him a loser when the king won (up until nobody, not even himself, could eat the patties.) After declaring SpongeBob the true winner, Neptune told SpongeBob that he can't bring his friends. However, when he decided to learn how to make Krabby Patties from SpongeBob, Neptune fried the stove when he burned his finger.
In "The SpongeBob SquarePants Movie," he falsely accused Mr. Krabs of stealing his crown (even though this was obviously Plankton's doing) and froze him until the day of execution without a fair trial or evidence (declaring the false note and message as evidence enough) and almost imprisoned his servant for touching his crown which was his job. It is made apparent that he executes people on a daily basis because Mindy angrily tells him that he can't get through one day without executing someone.
Larry the Lobster
Larry is very passionate about having a healthy diet and exercise, but sometimes his passion for a healthy lifestyle can sometimes cause him to be inconsiderate of what is around him.
Bikini Bottomites
The Bikini Bottomites are the citizens who appear randomly in Bikini Bottom as recurring characters. Many do not consider them antagonists, but they have been shown to have antagonistic sides throughout the series. Often they will go to extreme lengths to teach someone a lesson. They are also shown to be hypocritical on occasion. The law is no different, as unlawful punishments, kangaroo courts, and unfair and unnecessary arrests take place. Harold is considered the most antagonistic citizen.
Trivia/Reception
Squidward has the most main antagonisms, Mr. Krabs has the second most, and Patrick has the third most.
The reason Mr. Krabs' antagonism in "One Coarse Meal" is both bolded and underlined is because, while Mr. Krabs probably didn't intend for Plankton to attempt suicide, scaring someone is way too much, and Mr. Krabs thought Spongebob informed him of Plankton being broke on the street, not about to die to a bus. Also, suicide is generally seen as a grim and dark subject matter, especially for a show aimed at children.
Patrick's antagonism in "Big Sister Sam" is the first time he has a bitter rivalry toward Squidward, due to caring for his sister.