List of antagonism by character
Comments

0
6,727pages
on ESB
Many characters of SpongeBob SquarePants have held antagonistic roles in various episodes, even though they are normally portrayed as heroes. This is a list of antagonistic traits shown by otherwise good characters. This list doesn't include Plankton, The Flying Dutchman, Man Ray, Dirty Bubble or any other villains who are already evil most of the time.
SpongeBob SquarePants
Keep in mind, SpongeBob is intelligent, funny, nice, kind, smart and optimistic, but these traits do not mean that he is safe from antagonism, including being annoying.
In "Ripped Pants," Everyone teases SpongeBob by ripping his pants and fools everyone into thinking he drowned.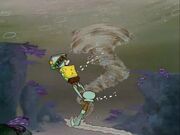 Patrick Star
Although he is unintelligent and is usually carefree, magnanimous, and generally detached, Patrick has frequently acted cold, shrewd, selfish, and even psychotic at times. He will ignore rules and warnings to do whatever he wants resulting in trouble.
In "Tea at the Treedome," Patrick's fancy advice gets SpongeBob dehydrated in Sandy's treedome. As Patrick was manually helping SpongeBob, he soon becomes dehydrated as well.

In "Nature Pants" when SpongeBob decides to live away from home, a hurt and crazed Patrick attempts to capture him and keep him in a jar on his mantle. When SpongeBob escapes by jumping into the jellyfish hive, Patrick gives up, snaps his net in half, and walks home crying.
In "Suds," though Patrick would help SpongeBob when he got the suds, he told him that the doctor's was a bad place and gives him bad treatments. Later, Sandy realized that Patrick was giving him bad treatments and decided to get SpongeBob to the doctors, as well as telling Patrick that he should be arrested for impersonating a doctor. At the end of the episode, Patrick becomes jealous of SpongeBob getting a lollipop for his treatment and pretends to get sick. Purple Doctorfish gives Patrick the Starfish treatment (which is an aching treatment for sea stars), as punishment for giving SpongeBob bad treatments and impersonating a doctor.
In "Valentine's Day," after SpongeBob fails to produce a gift for Patrick (which was in reality due to scallops attacking and stalling Sandy's chocolate balloon, which was his intended gift), he concludes that SpongeBob must hate him (especially after finding out that SpongeBob gave gifts to everyone else, including somebody he had just met that morning) and goes on a violent rampage throughout the carnival, eventually cornering everyone (including SpongeBob and all the innocent bystanders) at the end of boardwalk, seemingly with the intention of killing them. Once Sandy shows up and Patrick realizes that SpongeBob had indeed gotten him a gift and his anger is forgotten.
In "Hooky," he puts SpongeBob in danger by playing in the hooks. Ignoring repeated warnings from Mr Krabs to do so.
In "Life of Crime," he accuses SpongeBob of eating his chocolate bar (even though he had just eaten his own a moment earlier). He then threatened to tell the police on SpongeBob.

In "Dumped," he became selfish to SpongeBob after he got Gary (though Gary was only into him for his cookie in the pocket.) This is the first time in the series to portray Patrick as a villain and probably his biggest antagonism role yet.
In "I'm Your Biggest Fanatic," he touched stuff in the convention even though the police told him not too and also captured Jeffrey Jellyfish, even though he told SpongeBob that hero worship is unhealthy.
In "Pressure," he, SpongeBob, Squidward, and Mr. Krabs made fun of Sandy to show that sea creatures are better than land creatures.
In "Sailor Mouth," along with SpongeBob, uses bad language (due to him and SpongeBob not knowing what it meant).
In "I'm with Stupid," SpongeBob volunteered to act stupid around Patrick's parents in an attempt to improve their opinion of Patrick. However, Patrick takes the act too far, to the point where he actually begins to believe that SpongeBob really is stupid. All the teasing and embarrassment from Patrick and his supposed "parents" eventually proves too much for SpongeBob, who runs away screaming and crashes through the wall of Patrick's house.
In "Rock-a-Bye Bivalve," he fails to do his fair share of work in taking care of the baby scallop, claiming that he's too tired from work. Each night, he promises to assume responsibility for the baby the following night, but repeatedly fails to do so, even when SpongeBob shows him the obscene amount of diapers he has to change. When SpongeBob finds out that "work" consists of Patrick watching TV under his rock, eating junk food, and neglecting Jr.
In "New Student Starfish," he became a student in Mrs. Puff's classroom, which made him cost one of SpongeBob's "Good Noodle Stars", drew a cruel, disturbing picture of Mrs. Puff, passing it to SpongeBob's desk, making her think SpongeBob was responsible for the picture, and made SpongeBob end up sitting in the back of the classroom. This is probably Patrick's second most antagonistic role.
In "Hocus Pocus," he tries to eat the ice cream cone that SpongeBob believes is Squidward. Even after SpongeBob reveals this Patrick's only response is to eat it faster citing that the squid turned ice cream tasted good.

In "Wigstruck," he attacks SpongeBob because he thought that SpongeBob's wig was a monster.
In "Driven to Tears," he eats SpongeBob's flash cards, making him fail. Then he attends Mrs. Puff's boating school, suspecting that Mrs. Puff was setting up SpongeBob's tests so he would constantly flunk, and passes almost effortlessly. Afterward, he rubs his license in SpongeBob's face every chance he gets, calling himself a "driving genius" (despite having ran red lights and made dangerous U-turns); SpongeBob finally gets sick of it and destroys his license, Patrick is arrested for littering and sentenced to prison time (which would never happen in real life). However, SpongeBob confesses to the "crime" and takes Patrick's place in jail. The two friends reconcile when SpongeBob is released from prison.
In "Rule of Dumb," he is crowned King of Bikini Bottom and becomes a ruthless tyrant, thinking he has the right to take and use whatever he wants, regardless of what harm it brings to others, to the point of outright stealing. After weeks of ruining everyone's lives for his own personal gain, Patrick goes too far by hiring a construction crew to move Squidward's house in order to set up a Ferris wheel. Squidward starts a revolt against Patrick among the townspeople, and Patrick begins planning to kill (or so it seems) Squidward in order to show his power, even scaring SpongeBob away at this point. When Patrick looks into the mirror and sees a monstrous version of him, he becomes horrified by what he has become, decides that friendship is more important than power, and happily abdicates the throne when it is discovered that he is not the true king. This Patrick's third most antagonistic role.
In "Sing a Song of Patrick," he uses a hundred dollar bill that he found in SpongeBob's wallet to enter a contest. Fully acknowledging that the money belonged to his friend but taking it anyway. Patrick's song also caused a ton of damage on Bikini Bottom.
In "The Battle of Bikini Bottom," after SpongeBob realized Patrick never washed his hands, they made a war with SpongeBob being clean and Patrick being dirty.
In "No Nose Knows," he got a nose job to be able to smell, but soon afterwards, Patrick became a rude, inconsiderate jerk who did anything to get rid of a bad smell. This soon led to his friends nearly running him out of town, but instead they just got rid of his nose.
In "Shuffleboarding," Patrick placed two kids in jail for "loitering". SpongeBob finds that illegal until a security guard throws away a Krabby Patty. The two then put nearly everyone else in jail. At the end of the episode, Mermaid Man and Barnacle Boy gets chased by the jailed Bikini Bottomites (though Patrick was responsible for this.)
In "Stuck in the Wringer," he gets SpongeBob stuck in his wringer by super gluing him in.This gets SpongeBob to get kicked out of his job, sustain multiple injuries, inable to eat anything, and later to develop mental illness. He also selfishly eats SpongeBob's ice cream (as the wringer made it so he couldn't), gloats his winnings at the carnival in SpongeBob's face, and never even apologizes to him in the episode.
In "The Card," he promises a valuable trading card to SpongeBob and is completly careless when handling it and eventually destroys it right in front of SpongeBob knowing that he promised it to him.
In "Sand Castles in the Sand," SpongeBob and Patrick declared a war with SpongeBob with their sand creations, making this one of the rare moments when SpongeBob considers Patrick of his enemy, similar to "The Battle of Bikini Bottom."
In "Yours, Mine and Mine," he shows a much more selfish nature than normal. He refuses to share a toy SpongeBob technically bought. He had been hungry, but had no money, so SpongeBob bought him a meal to share and Patrick ate all of it. He then complained he didn't get a toy so Mr. Krabs quickly made one. SpongeBob loves it but Patrick, despite seconds before hoarding the meal all to himself actually tells off SpongeBob and says that they had been sharing the meal so he wants a turn with the toy, his idea of sharing apparently being that SpongeBob pays and he gets. He keeps it all night and the next day refuses to share even for a split second. SpongeBob and Patrick continue to fight over the toy and Patrick ends up eating it saying, "If I can't have it, no one can." Mr. Krabs tells them he made a lot of the toys because they were so successful, and Patrick buys a couple toys...with SpongeBob's money. When SpongeBob complains about this Patrick replies, "Have you learned nothing about sharing?"
In "Back to the Past," he caused many problems whenever he eats the tartar sauce.
In "Karate Star," he becomes obsessed with his karate chop move that he began chopping various buildings and objects. This may not count as an antagonistic role due to Patrick not meaning to go mad with his power, but he did cause a huge amount of destruction in Bikini Bottom.
In "Frozen Face Off," he betrayed the gang by helping Plankton to open the secret formula.
In "Sentimental Sponge," Patrick's advice to SpongeBob about savoring his "sentimental stuff" (which was his garbage) gave him a negative effect on him, Squidward, and their neighbor as SpongeBob began to savor more junk.
In "Big Sister Sam," he was oblivious to his sister's agresiveness when she hurts SpongeBob and Squidward and even destroys their houses and he scolds them for being mad about it.
In "Oral Report," he caused SpongeBob's oral report anxiety by asking to be moved to the back of the class, falling asleep, yelling "Boring!" and then "Next!". He then starts assaulting him with many obstacles, such as pillows, a treadmill, dressing as Mrs. Puff to give him a detention slip, and saying "Speech" in a chargeful voice. He also broke SpongeBob's underwear goggles, increasing his oral report anxiety.
In "Smooth Jazz at Bikini Bottom," he eats Squidwards concert ticket for no reason, and later gets into the concert for unknown reasons (possibly by sefishly using Squidward's stolen ticket). He later eats Squidward's backstage pass goes backstage (presumably with the stolen pass). He also jumps up onstage and blatantly interrupts the concert.
In "Pet Sitter Pat," he hurts eats Gary's food right in front of him and later bathes him too hard which causes the house to flood. He also chases Gary down with a flame thrower.
In "Restraining SpongeBob," he constantly annoys Squidward and then attacks him when he thinks he was a monster.
In "The Good Krabby Name," he attacks SpongeBob when he thinks he was eaten by a giant Krabby Patty  costume SpongeBob was wearing. He and Patrick then destroy a lot of stuff, injuring people in the process.
In "It's a SpongeBob Christmas!" Patrick lays Santa traps around his rock to capture Santa but ends up getting caught in the traps and at the end of the episode, he snags Santa in a Jellyfish Net.
In "Patrick-Man!" he ran around town falsely accusing people of crimes (even having Mrs. Puff charged for a felony). He then throws SpongeBob at the Dirty Bubble and destroys the Krusty Krab.
Squidward Tentacles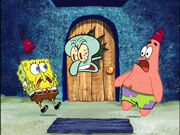 Squidward has a considerable but not really evil antagonistic side (due to having been nice to SpongeBob before), frequently taking advantage of the situation to stop SpongeBob from tormenting him.
Eugene Krabs
Mr. Krabs has an extremely prevalent antagonistic side and plays a villainous role due to his extreme greed mostly because he's the villain side in conning and criminality as well as committing illegal misdemeanors and felonies at occasions. He is even called a second antagonist by Stephen Hillenburg. In the original series, he was a lot kinder and more friendly but still somewhat greedy, but in the Paul Tibbitt series he's a significantly more greedy and abusive.
In "Help Wanted", he tells SpongeBob to find a spatula with port attachments so he can get rid of him.
In "Squeaky Boots", Out of his cheap nature, he gives Pearl a pair of boots for her birthday instead of fancy slippers. After selling them to SpongeBob, he stole his boots away from him, because of the squeaky noise. The squeaky noise hallucination forced him to tell the truth, eating them, and at the end of the episode, he got hiccups sounding exactly like the squeaky noise of the boots.
In "Arrgh!", he gets SpongeBob and Patrick to be pirates and help him find the Flying Dutchman's treasure. The two eventually see that Mr. Krabs was using their game board as a map and that he wanted the treasure for himself.
In "Patty Hype", he takes over SpongeBob's business so he can earn money. The side effects anger the customers and they chase Mr. Krabs back and forth.
In "Life of Crime", he lies to SpongeBob and Patrick that they could take anything as long as they give it back. It is also shown that Mr. Krabs has stolen many objects from people, telling the boys that they are "borrowed".
In "Pressure", he, SpongeBob, Patrick, and Squidward made fun of Sandy to show that sea creatures are better than land creatures.
In "The Smoking Peanut", he steals Clamu's pearl and abuses Free Day.
In "Krusty Love", he falls in love with Mrs. Puff and asks SpongeBob to give her stuff that she doesn't even need, telling him not to spend any money, and when SpongeBob comes back with the item, he repeatedly tells him he was not supposed to spend his money on anything. This continues until SpongeBob curses Mr. Krabs and leaves the episode.
In "Sailor Mouth", he uses foul language.
In "Jellyfish Hunter", he tricks SpongeBob into collecting jellyfish. SpongeBob soon discovers that Mr. Krabs is squeezing jelly out of them so more jelly Krabby patties can be made, while SpongeBob did

the same Mr Krabs is taking so much and so harshly that it hurts the jellyfish. The jellyfish are set free and sting Mr. Krabs all at once, burning his body. He has no choice, but take jelly off the menu. This might be one of his most villainous roles yet.
In "The Fry Cook Games", he told SpongeBob that Patrick was not his friend and he was just helping Plankton. Therefore, Krabs lied to SpongeBob so he could win the award for the Krusty Krab, but neither side won in the end.
In "Squid on Strike", he give his workers a bill instead of a paycheck for ridiculous reasons (such as breathing and existing).
In "Sandy, SpongeBob, and the Worm", he refuses to pay even a cent to Sandy to get rid of a worm, and claimed that he rather have the worm come and eat them all alive.
In "My Pretty Seahorse", Mr. Krabs tried to get rid of Mystery (in which SpongeBob tries to hide her from him and Squidward). He told SpongeBob about a story about losing a friend (actually a dollar he spent on soda) which guilted SpongeBob into releasing Mystery into the wild. While he was almost proud about getting rid of Mystery, Squidward told Mr. Krabs that Mystery ate his money. With no other choice, Mr. Krabs and SpongeBob tried to get Mystery back. It should be noted that Mr. Krabs wished for Mystery to be given up as he noticed she was not enjoying her unnatural surroundings and did console Spongebob when he tearfully gave up Mystery stating he had done the right thing for her.
In "One Krab's Trash", he tries to take back a soda-drinking hat he sold to SpongeBob after hearing about its price. He scares SpongeBob out of it with a paper ghost, defiles a grave, and fights an army of skeletons to get it back, only to find out that it was worthless. Apparently, when Mr. Krabs said "What a baby." when reading Squidward's dreams' grave, karma comes back to him when he cries and Squidward says exactly the same thing at the end of the episode.
In "Nasty Patty", he and SpongeBob creates a tainted patty to a health inspector, believing he is fake. However, when they realized he was real, and the patty already poisoned him, they try to bury him and lock him in the freezer.
In "Wet Painters", he tricks SpongeBob and Patrick to paint the wall of his house, telling them the paint is permanent, and threatens them to not leave a single drop of paint on anything but the wall, or he will cut off their butts and put them on his fireplace.
 It turns out that his threat was just a prank. As punishment, while he was laughing, the paint came off his wall and into the floor.
In "Clams", he made SpongeBob and Squidward stay for days until he gets his millionth dollar back (even to the point of starvation) and when they attempt to abandon him, he holds them hostage just to get back his millionth dollar from a giant clam. Krabs succeeded, though his near-death experience worried SpongeBob and Squidward (who complained because he was tied to SpongeBob.)
In "Born Again Krabs", he tries to sell a rotten Krabby Patty to customers. He gets sick after eating it and is persuaded to be generous by the Flying Dutchman. However after realizing it wasn't a dream he steals back toys from children, soda from a customer, stopp

ed another customer from watching free TV, nearly rips someone's arm off for a penny, and trades SpongeBob's soul for 62 cents. But after Squidward scolds him for choosing money over SpongeBob, Mr. Krabs shows remorse and wants SpongeBob back.
In "Krabby Land", he creates a bogus theme park and masquerades as a clown so he can collect children's money. SpongeBob gets disappointed by this, and the children beat Mr. Krabs up and take his money after finding out.
In "Fear of a Krabby Patty",  he opens the krusty krab for 24 hours. However makes Squidward and SpongeBob work 24 hours every day (which is actually a violation of several workers rights laws) without getting a break or even being allowed to go home. After 43 days, they Squidward had severe insomnia, SpongeBob was halucinating, and even krabs was in bad shape.
In "Whale of a Birthday", it was revealed that because of Mr. Krabs' cheap nature, he makes Pearl's party horrible. Pearl once revealed that Mr. Krabs once gave her a box of staples as a birthday present. Pearl's 16th birthday was at first, horrible, but she manages to get a lot of presents, bought by SpongeBob through Mr. Krabs' credit card.
In "Krusty Towers", he plagiarizes the law of the hotel he visited into the Krusty Towers making Squidward miserable. Squidward quit and returned as a customer ragging Mr. Krabs the same way he did with him. At the end of the episode, he decides to build a hospital making Squidward miserable again.
In "That's No Lady", he forced SpongeBob to work 3 hours early, not that SpongeBob really minds. He also antagonized Patrick (as Patricia) by date offerings until he discovered that Patricia is Patrick.
In "Wishing You Well", he tried to take thrown coins meant for a wishing well. During his wishing well scheme, he put Sponge
Bob in there so he can get the coins. Later that night, after getting some coins in his well, he wouldn't let SpongeBob and Patrick leave so he can get more coins from any late-night wishers. Near the end of the episode, he told SpongeBob that there is no such thing as magic (even though the latter and Patrick strucked magic down the well) and regardless of Sandy, Mrs. Puff, and Plankton's wishes coming true, he still didn't believe him. To prove him wrong, Krabs wished he was served, but in the end, ends up actually served. Before being eaten, Mr. Krabs cried that he believes in magic.
In "Born to Be Wild", he invites the Mild Ones to the Krusty Krab much to SpongeBob's chagrin. Counts as an antagonism because SpongeBob still mistook the Mild Ones as the Wild Ones.
In "Best Frenemies", he teams up with Plankton to steal a kelp shake.
In "The Krusty Sponge", he makes Squidward cook spongy patties (rotten patties), which made the customers ill and brought Mr. Krabs to court; he was acquitted only because the judge was a SpongeBob fan.
In "The Krusty Plate", he left SpongeBob alone with the Krusty Krab burnt in a flashback. At the end of the episode he chased SpongeBob for destroying the Krusty Krab.
In "Pat No Pay", he made Patrick do some work and threatened him that if he can't to do something right, he will not give him a Krabby Patty to eat again.
In "Atlantis SquarePantis", Mr. Krabs placed an illegal stand in front of the museum (even though it was free on Mondays) and then was busted by Miss Shell.
In "Stanley S. SquarePants", he blames SpongeBob for the damaged things Stanley broke.
In "Penny Foolish", he sees SpongeBob picking up a "penny" (which was actually $500 bill) and tries various plans to take it from him, even to the point of insanely breaking into SpongeBob's house with a metal detector.

In "Patty Caper", he stole the secret ingredient of the secret formula, so he wouldn't have to pay for delivery ($1.99) and he tried to frame SpongeBob for it (while holding the ingredient of the secret formula). As punishment, he was forced to sell free Krabby Patties all day and watching it all go down.
In "Plankton's Regular", he doesn't want Plankton to have one single customer, despite Plankton telling him he would no longer try to take his secret formula.
In "Krabby Kronicle", he creates a newspaper and makes SpongeBob write lies about people, ruining their lives. SpongeBob tries to stop him, but Mr. Krabs threatens to take away his spatula. Soon Mr. Krabs' scheme is found out, and an enraged crowd steals back his money.
In "The Slumber Party", he makes SpongeBob spy on Pearl and her friends. Pearl's party is ruined and Mr. Krabs is forced to spend his money for a new party.
In "Krusty Krushers", he puts SpongeBob and Patrick in danger of being killed by huge wrestlers so he can earn the $1,000,000 prize for himself. However at the end of the fight, SpongeBob and Patrick choose wrestle camp instead, much to Mr. Krabs' dismay.
In "No Hat for Pat", he made a fortune when Patrick kept falling on his face, disappointing SpongeBob. Eventually, people take their money back after a Patrick stunt failed. Krabs, then harshly fires Patrick, telling him that he will never wear the hat as long as he is still standing. This is probably Mr. Krabs most abusive role.
In "Truth or Square", he had hidden cameras on his friends (which obviously, he would spy on them).In "Greasy Buffoons", he and Plankton sell customers greasy food. This eventually turns people (including Patrick) into overweight, mindless zombies. SpongeBob calls a health inspector, resulting in both the Krusty Krab and the Chum Bucket being shut down until the grease gets cleaned up.
In "Kracked Krabs", he charged everyone $1 per footstep in a video.
In "One Coarse Meal", he dresses up as Pearl and terrorizes Plankton, who goes into a suicidal depression. Only for SpongeBob to betray Plankton by projecting a family of whales (the mime only creeps him out). This is Mr. Krabs second most villainous role.
In "The Play's the Thing", he opens a dinner theater at the KK and forces SpongeBob and Squidward to both put on the play and searve food at the same time (which dosn't happen in real dinner theater) the customers expect them to be able to do this and throw hard burned krabby patties at them when they are unable to (despite that they were only mad at Squidward) and Krabs shows no sympathy and decideds to do it again another time.
In "The Cent of Money", he uses Gary as a coin magnet. He steals everyone's money, brings Gary to exhaustion, and distracts SpongeBob by giving him tedious chores. Mr. Krabs is soon crushed by a tidal wave of money and put in the hospital, where every cent he collected is used up to pay his bill. This is Mr. Krabs third most villainous role.
In "The Curse of the Hex", he refused to let Madame Hagfish have a krabby patty and takes away the krabby patties SpongeBob made for her.
In "Sponge-Cano!", he nearly tried to take SpongeBob and Squidward's life essences (kill them.)
In "The Wreck of the Mauna Loa", he gives away SpongeBob and Patrick's secret by turning it into an amusement park. He nearly gets everyone killed, and gets arrested.
In "Accidents Will Happen", he told them that he borrowed the camera from the airport when they saw it. In reality, Mr. Krabs actually stole it.
In "Drive Thru", Krabs kept braking his walls in order to make more drive thrus, but in the end, he ends up destroying his restaurant.
In "Barnacle Face", Mr. Krabs denied Pearl's decisions of going to the spa and caused Pearl to have  barnacles in the first place when it is revealed that the house's soap was made of the Krabby Patty's grease. As punishment, he lost his diamonds when SpongeB

ob used them to cover Pearl's barnacles and chased them.
In "The Krabby Patty That Ate Bikini Bottom", Mr. Krabs used all the serum on a Krabby Patty, disregarding SpongeBob's advice on the way. As punishment, Mr. Krabs got eaten by the Patty until SpongeBob absorbed it.
In "InSPONGEiac", he snaps at SpongeBob and being picky at his work, like too much mustard (101%) and saying the way that he flips Krabby Patties is wrong and kicks him out to get some sleep for he believes he's wasting his profits, claiming that he'd be broke in 411 years.
In "Chum Fricassee" Squidward gets a new job at the chum bucket (as it has been shown how poor of an employer Krabs is) and then becomes famous for his grandmother's recipie. This nearly causes the KK to go out of business (which would have happened anyway had sombody reported his abusive nature). The chum bucket is later destroyed by overreactive bikini bottomites after Squidward made one small mistake. Krabs then punishes him by using him as a doormat (literally). Yet another time he abuses his workers.
In "Hello Bikini Bottom!", Mr. Krabs did several crimes, like steal Colonel Carper's first band (SpongeBob and Squidward) and sound equipment, Mrs. Puff's bus, and others. After the meteor shower that Patrick told him about, Mr. Krabs made money success, until there was a line stating that he had to pay everyone he did crimes at, ending with Colonel Carper getting the remainder of his money 

by having his roadies pulverize Mr. Krabs down. Luckily for Mr. Krabs, SpongeBob was generous enough to let him take Gary's college fund to get the Krusty Krab back.
In "Squid Baby", he wouldn't show care for Squidward when he got the head-go-boom-boom-itis.
In "Safe Deposit Krabs", he tried to take money from the Bikini Bottom Bank but was kicked out twice. After being locked in its safe, this worried SpongeBob.
In "SpongeBob You're Fired", he fires SpongeBob to save a nickel. He later relents and rehires SpongeBob after his own horrendous cooking almost destroys his business (he solves the nickel problem by installing a pay toilet).
Sandy Cheeks
While generally friendly and positive, Sandy is prone to mood swings and can be vicious when angered.
Gary the Snail
Though
Gary
is intelligent and loves his owner, SpongeBob, he can be naughty at times, sometimes in his rivalry with Squidward.
Pearl Krabs
Though Pearl is a bratty, spoiled teenager who constantly makes demands of her father, some of her decisions lead to problems.
In "Growth Spout", Pearl forces Mr. Krabs to give her vast amounts of food because of her growth spurt and threatened to eat his money.
In "Tunnel of Glove", Pearl attempted to leave the ride, but the combination of that and SpongeBob's obstruction leads them trapped until Patrick destroyed the ride.
In "Drive Thru", Pearl and her friends harshly pranked Squidward with a megaphone injuring Squidward's ear.In "Welcome to the Bikini Bottom Triangle", she demanded to go to the mall, even though she and the others were trapped in a deserted island with no way to get home. 
Mrs. Puff
Mrs. Puff
is nice, but when SpongeBob annoys her, she goes insane and wants to get "rid"of him.  Her antagonisms may be identical to Squidward's due to SpongeBob annoying them and him being the common bane of their existences.
Barnacle Boy
Like Squidward, Barnacle Boy is often nasty at times and despite being a superhero, he has a few antagonisms in the series.
In "Mermaid Man and Barnacle Boy II", he denied SpongeBob of using the Conch Signal and calling him a hero and tells Mermaid Man that they should ditch him (since he caused trouble to them during the middle of the episode), but changes his mind after SpongeBob saves him from the Dirty Bubble. 
In "Mermaid Man and BarnacleBoy V" after being fed up of being treated like a child, Barnacle Boy joins the dark side and renames himself "Barnacle Man."
Patchy the Pirate
Though Patchy is a SpongeBob fan, some of his schemes are known to be vulgar.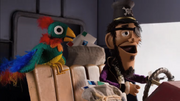 King Neptune
King Neptune is often harsh and unfair towards his citizens, due to his bad temper and brutish force. 
In "Neptune's Spatula", he didn't believe SpongeBob pulled the spatula until Patrick told him. Neptune then fried Patrick until the starfish was dead (although he semi-restored him.) During the challenge, Neptune made more patties than SpongeBob and called him a loser when the king won (up until nobody, not even himself, could eat the patties.) After declaring SpongeBob the true winner, Neptune told SpongeBob that he can't bring his friends. However, after SpongeBob's alternative, Neptune fried the stove when he burned his finger, with SpongeBob glaring at him.
In "The SpongeBob SquarePants Movie," he falsely accused Mr. Krabs of stealing his crown (even though this was obviously Plankton's doing) and froze him until the day of execution without a fair trial or evidence and almost imprisoned his servant for touching his crown which was his job.