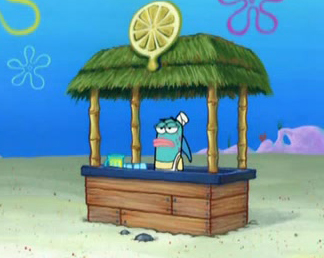 The
Lemonade Stand
is a stand that sells lemonade seen only in the episode, "
Karate Star
".
Appearance
The stand is made of wood, has a green roof and has a lemon on the top.
Demise
The stand was destroyed when Patrick was practicing his karate moves. He destroyed the stand when he did the "Inverted Whirlpool". Similar to this, Patrick had a lemonade stand in the episode The Great Patty Caper, when trying to stop the train.