Not to be confused with the Pizza Patty.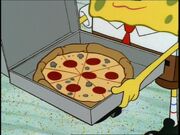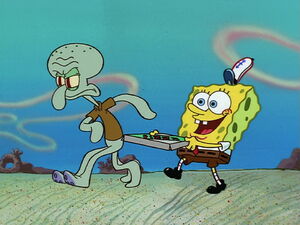 The Krusty Krab Pizza is a pizza that Mr. Krabs created by morphing Krabby Patties into a pizza in the episode Pizza Delivery.
Appearance
The Krusty Krab Pizza resembles any regular pizza. It has eight slices and features pepperoni and mushrooms.
History
Mr. Krabs sent SpongeBob and Squidward out to deliver the pizza. It took them the entire episode to deliver it, and when they got there, their customer, Tom, requested for a drink, although he apparently never ordered one in the first place. After SpongeBob tells him this, the angry customer refuses to eat or pay for the pizza without his drink. He insults SpongeBob by asking him if he ever thought of the customer, to which SpongeBob breaks down crying. Squidward, however, in a rare change of heart, stands up for SpongeBob and slams the pizza in Tom's face saying that "this one's on the house," (although, this could also be because he felt as if he made the delivery for nothing.) It also appears in I ♥ Dancing, when it landed on Frankie Billy's table along with the drink, nachos, a sandwich, and a knight.