If you were looking for the article about the present day commercial, then see Krusty Krab Commercial.
"We're not getting paid to clean stuff!"

This article is in need of cleanup in order to comply with Encyclopedia SpongeBobia's Manual of Style. Please help this Wiki by making this article clean and tidy!
Please remove this message when finished.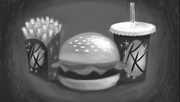 The Krusty Krab Commercial is an old commercial that appears in black and white. It is shown in the episode "Truth or Square."