"We're not getting paid to clean stuff!"

This article is in need of cleanup in order to comply with Encyclopedia SpongeBobia's Manual of Style. Please help this Wiki by making this article clean and tidy!
Please remove this message when finished.
"It's Squidward, silly!"

This article is in need of one or more better quality images. Please help Encyclopedia SpongeBobia by uploading a better image or editing the current image.
Please remove this message when finished.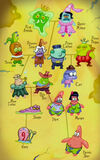 King Amoeba is the husband of Queen Mildew and father of Princess Tulsa and Prince Callous. He is Patrick and Gary's great-great grandfather. He is also Maw Tucket and Carl's grandfather. He appeared in the episode "Rule of Dumb" on a family tree map. He reigned as a monarch at some point, although the region is unspecified. He is a part of Gary and Patrick's family.
Description
He wears a gold crown. His inner half of his body is dark green, whilst the outer part is light green, and he has olive-green eyes with red pupils.
History
He only appears in "Rule of Dumb" illustrated on a family tree and never appeared in the rest of the series.
I can turn into a skyscraper!

This section is too short. You can help the Encyclopedia SpongeBobia by

expanding

it.
Trivia
Ad blocker interference detected!
Wikia is a free-to-use site that makes money from advertising. We have a modified experience for viewers using ad blockers

Wikia is not accessible if you've made further modifications. Remove the custom ad blocker rule(s) and the page will load as expected.