"We're not getting paid to clean stuff!"

This article is in need of cleanup in order to comply with Encyclopedia SpongeBobia's Manual of Style. Please help this Wiki by making this article clean and tidy!
Please remove this message when finished.
Object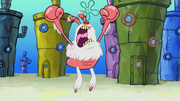 Ketchup is a condiment that is used frequently in SpongeBob SquarePants.
Role in series
This item is mainly used by SpongeBob when he makes Krabby Patties. Ketchup varies in different shapes and sizes as seen in "Krusty Krab Training Video" and "Little Yellow Book," where it's shown that the Krusty Krab carries ketchup packets. SpongeBob also uses ketchup in his sundae in the episode "Something Smells" where he actually squirted the entire bottle on it. The ketchup bottle is also unusually big in that episode as well. Ketchup is also seen twice in the much later episode "Eek! An Urchin" where SpongeBob spills some on the floor and a customer pours some on the sea urchin.
Video games
Ketchup appears in
SpongeBob Moves In!
as a cooking material. It requires 2 tomatoes to be made and takes 4 seconds to make it.
Appearances
Ketchup is seen in many episodes when Krabby Patties are shown. Here are episodes that it appears in:
Ad blocker interference detected!
Wikia is a free-to-use site that makes money from advertising. We have a modified experience for viewers using ad blockers

Wikia is not accessible if you've made further modifications. Remove the custom ad blocker rule(s) and the page will load as expected.