If you were looking for the article about the character, then see Kenny the Cat (character).

Episode

"Kenny the Cat" is a SpongeBob SquarePants episode from season nine. In this episode, SpongeBob looks up to a new celebrity: Kenny the Cat, a cat who can hold his breath for an incredible amount of time.
Characters
Synopsis
SpongeBob is excited because his brand new hero, Kenny the Cat, is coming to town. Kenny is a cat who can hold his breath underwater for a really long time. Mr. Krabs is excited about Kenny's visit to Bikini Bottom too, so he decides to have Kenny appear at the Krusty Krab and give him the manager's treatment. SpongeBob goes to Sandy's house and tells her the news about Kenny coming to town, but Sandy thinks Kenny is a fraud because he never talks.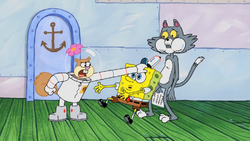 That night, SpongeBob and Patrick camp outside to see Kenny. They look at the stars shortly afterwards SpongeBob paints his and Patrick's face to look like Kenny. He shows Patrick other objects he brought along to idol his idol. Patrick then gets creeped out by the amount of idol worship and leaves.
The next day, Kenny the Cat finally arrives and starts giving out autographs. SpongeBob asks Kenny to autograph his custom Kenny spatula. He then invites him to the Krusty Krab. Kenny arrives at the Krusty Krab and Mr. Krabs gives him free ketchup packets and an all-you-can-eat buffet in his honor. He begins to struggle, as he needs to take a breath. He draws a toilet, and runs to the restroom. In the bathroom, Kenny takes an oxygen tank out from behind his back and uses it to breathe. SpongeBob sees this and realizes that Kenny is a fraud after all. Kenny begs SpongeBob not to reveal his secret because he just wants to be special and SpongeBob agrees. 
When everyone is admiring Kenny and basking in his glorious fame, Sandy shows up and asks him some questions to expose Kenny. He opens his mouth, but then almost drowns, so he takes out his oxygen tank and reveals himself. This causes everyone to turn against Kenny and Mr. Krabs takes back the ketchup packs.
However, SpongeBob decides to help Kenny by giving him a suit and helmet. He decides that Kenny should become a famous cat who lives underwater (like Sandy does). Kenny thanks SpongeBob for helping him, but sadly Sandy arrives, kicks Kenny and sends him back home to the surface. Sandy mentions that you can never trust a cat, but gets confused, saying, "Or is it a dog?" The episode then ends.
Production
Music
( ‣ ) Associated production music

( • ) Original music

( ◦ ) SpongeBob music

 • Twelfth Street Rag - Sage Guyton, Jeremy Wakefield [title card]
 ‣ ? - Michael Bolger, Nicolas Carr [opening]
 ‣ Curtain-Raiser - Alan Braden [SpongeBob points to Kenny the Cat poster]
 • Vibe Sting - Nicolas Carr ["What the claims is a cat?"]
 ‣ Banners Victorious - Ronald Hanmer [SpongeBob describes Kenny's accomplishments]
 ‣ Dramatic Impact 6 - Ivor Slaney [Mr. Krabs gasps]
 ‣ Tympup B - Sammy Burdson and John Charles Fiddy [Mr. Krabs smiles]
 • Hawaiian Sting - Nicolas Carr [Mr. Krabs smiles]
 • Skipping to School - Sage Guyton, Jeremy Wakefield [SpongeBob enter at Sandy's House]
 ‣ Drama Link (g) - Hubert Clifford [SpongeBob dried up]
 ‣ Cartoon Sting 2 - Gerhard Narholz, Nicolas Carr, Barry Anthony ["You're kinda like a cat, aren't you?"]
 • Lap Steel - Nicolas Carr [transition to next scene]
 • Steel Sting - Jeremy Wakefield [Nathan walks away]
 ‣ Drama Link (f) - Hubert Clifford [Patrick shocked]
 ‣ Steel Sting (a) - Jeremy Wakefield [Patrick found a taco]
 ‣ ? [gazing into the stars]
 • Harp Ding - Nicolas Carr ["Hey, that reminds me!"]
 ‣ Cartoon Sting 1 - Gerhard Narholz ["Let's paint our faces to look like Kenny!"]
 • Lap Steel - Nicolas Carr [Hawaiian sting]
 ‣ Gala Premiere - Laurie Johnson [Kenny finally arrives at Bikini Bottom]
 ‣ Sailor's Sting 4 - Michael Bolger, Nicolas Carr [at the Krusty Krab]
 ‣ Creepy Sting 3 - W. Merrick Farran, Gerhard Trede [Kenny goes to the bathroom]
 ‣ Horror Crash - Harry Lubin [Spongebob sees Kenny using an oxygen tank]
 ‣ Melodrama - Harry Bluestone, Emil Cadkin ["How could you, Kenny?"]
 ‣ Steel Licks (d) - Jeremy Wakefield ["I can't believe I fell for such a PHONY!"]
 ‣ Sads Sting - Dick Stephen Walter ["Please, let me explain."]
 • Hello Blues - Sage Guyton, Jeremy Wakefield ["Really?!"]
 ‣ Sailor's Sting 4 - Michael Bolger, Nicolas Carr [Kenny back at Krusty Krab]
 ‣ West Point - David Farnon [Billy gets his autograph and explain]
 • ? - Jeremy Wakefield ["You're welcome."]
 ‣ ? [Sandy enters]
 ‣ Agitation Bridge 5 - Phil Green ["I NEED OXYGEN!!"]
 • ? - Jeremy Wakefield [customers leaving out]
 • Hawaiian Trax - Sage Guyton, Jeremy Wakefield [ending]

Trivia
Biz Markie guest starred as Kenny the Cat.
Kenny appearence looks close to Tom from "Tom and Jerry."
This is the first episode where SpongeBob refers to Sandy as 'Sandra.'  This occurs when SpongeBob and Sandy end their conversation at her treedome in the beginning of the episode.
This is the fifth time SpongeBob dehydrates in the Treedome due to his suffocation without the helmet. The others are "Tea at the Treedome," "Squirrel Jokes," "Yours, Mine and Mine," and "House Sittin' for Sandy."
SpongeBob's Official K.T.C. Member card looks similar to his driver license photo in Gone.
This is one of the few episodes SpongeBob and Sandy both get mad at the same character.
Sandy re-hydrated SpongeBob using a hose, similar to how she used a hose to re-hydrate both Patrick and SpongeBob in "Tea at the Treedome."
This episode aired in the US on March 29, just before the Nickelodeon 2014 Kid's Choice Awards.
This is the fourth time an episode premiered on Kids Choice Night. The first was "Help Wanted," the second was "Krusty Towers," and the third was "Planet of the Jellyfish."
This episode had 5.6 million viewers, the highest total for a season 9 episode, but not for an episode in the series.
The "Please Wash Your Fins" sign from the "Krusty Krab Training Video" was briefly seen.
Kenny was the first character on the show to call SpongeBob "Bob"
Cultural References
The name Kenny the Cat may be a reference to Tom Kenny, SpongeBob's voice actor.
Kenny's appearance is similar to Tom from Tom and Jerry (as stated above) and the cartoon version of Salem Saberhagen from Sabrina The Teenage Witch.
The way Sandy thought Kenny was a fraud (and was) could be a reference to celebrities in real life, and how people think about them.
Errors
Right before SpongeBob face painted Patrick, Patrick was still wearing his green Kenny the Cat "A-Ok" hat. When SpongeBob was face painting Patrick, his hat suddenly disappeared even though he wasn't shown taking it off.
Despite Kenny needing an oxygen tank, he was fully able to talk, which makes no sense because if he talked underwater, he could drown.
Patrick's sleeping bag disappears right after he leaves though it was shown earlier.