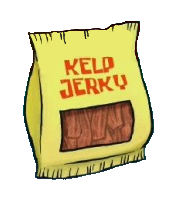 Kelp Jerky is a snack which looks and tastes like beef jerky.
Appearance
Kelp Jerky is a small, yellow bag with a window to display the Kelp Jerky. The letters "KELP JERKY" are written at the top of the bag in red-orange.
History
Kelp Jerky is the result of burning and curing kelp. It appeared in the episode Porous Pockets, when Patrick finishes a bag and then says "I'm gonna go get something to eat." It also appears in the episode Sun Bleached when SpongeBob is trying to get a tan, and Patrick put them in as teeth.