This is the page about the DVD. For other uses, see It's a SpongeBob Christmas! (disambiguation).
It's a SpongeBob Christmas! is a SpongeBob SquarePants DVD release of the episode of the same name. A special Target edition contains a bonus disc from the Target Corporation, named "It's a Nicktoons Christmas!"
Cover
SpongeBob is holding Christmas lights while Plankton is carrying a dirty soccer ball. In the background, Patrick is seen with Christmas lights on SpongeBob's house and there are snowflakes.
Episodes
Specials
Bonus Features
Animatics
Music videos
Other
Trivia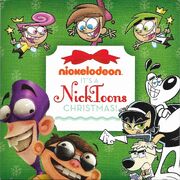 Alternate covers
DVD Menu
International regions
Ad blocker interference detected!
Wikia is a free-to-use site that makes money from advertising. We have a modified experience for viewers using ad blockers

Wikia is not accessible if you've made further modifications. Remove the custom ad blocker rule(s) and the page will load as expected.