This is the page about the DVD. For other uses, see It's a SpongeBob Christmas! (disambiguation).
It's a SpongeBob Christmas! is a SpongeBob SquarePants DVD release of the episode of the same name. It contains one episode from Season 8 and six episodes from Season 7. A special Target edition contains a bonus disc from the Target Corporation, named "It's a Nicktoons Christmas!"
Cover
SpongeBob is holding Christmas lights while Plankton is carrying a dirty soccer ball. In the background, Patrick is seen with Christmas lights as well on SpongeBob's house and there are snowflakes.
Episodes
Specials
Bonus Features
Animatics
Music videos
Other
Trivia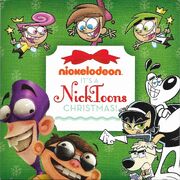 Alternate covers
DVD Menu
International regions