"Patrick! This isn't helping!!"

This article is being questioned as to whether it has a purpose on the wiki. It was likely found uncategorized, contains no sourced material, or was created and abandoned.
You can improve or bring this article to the community's attention by editing it. If this page can not be saved, then it should be marked for deletion.
| | |
| --- | --- |
| | "I can't hear you! It's too dark in here!" |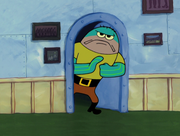 The Human Resources was an office branching off of Krabby O'Monday's. It is mentioned in the episode "Selling Out," when the restaurant's manager, Carl, threatens to send Squidward to Human Resources because he would not cooperate. A very muscular fish, most likely the enforcer, popped out. Squidward got scared and got to work with a smile.
Trivia
Carl mentions the office being called "Human Resources." However, almost every character in the show itself is a sea creature, so this was most likely an error.
The department's headquarters are located in a dark room in the back of the restaurant.
If you don't provide "Sincere Service with a Smile," you will get sent to Human Resources.
| | |
| --- | --- |
| | "We paid ten dollars for this?" |