| | |
| --- | --- |
| | "I can't hear you! It's too dark in here!" |
Not to be confused with Hash Slinging Slasher.
Character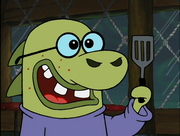 Hervy is a character who only appears in the episode "Graveyard Shift." He was a fish looking for a job application at the Krusty Krab. He called on the phone and he hung up because he was nervous. He was dropped off by a bus and came in to the Krusty Krab. Squidward and SpongeBob thought he was The Hash Slinging Slasher. He was wearing a dark jacket and holding a spatula.
| | |
| --- | --- |
| | "We paid ten dollars for this?" |