Hands Off! is a SpongeBob SquarePants book written by David Lewman and illustrated by C.H. Greenblatt. It was published by Simon Spotlight/Nickelodeon on June 1, 2003. It is available in the United States and is in English, and it has 24 pages.
Synopsis
SpongeBob is so protective of his new Mermaid Man and Barnacle Boy Bubble Blower that he doesn't even want to take it out of the packaging. However, when his best friend, Patrick, asks if he can look after it one night, SpongeBob can't refuse. SpongeBob tries to trust his friend, but his curiosity gets the best of him, and chaos soon follows.
Cover
I can turn into a skyscraper!

This section is too short. You can help the Encyclopedia SpongeBobia by

expanding

it.
Translations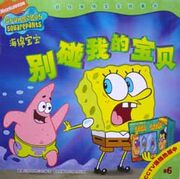 Trivia
Books (V • E)
A Christmas Coral • A Very Krusty Christmas • Adventures in Bikini Bottom • And the Winner Is... • Atlantis SquarePantis • Attack of the Zombies! • Behold, No Cavities! • Bikini Bottom Riddles • Blizzard Bluster!: SpongeBob's Book of Frosty Funnies • Blast Off, Splash Down! • Bottoms Up! Jokes from Bikini Bottom • Bubble Blowers, Beware! • Bubble Busters • Bubble Trouble • Buried Treasure • Bad Luck Day • Camp SpongeBob • Class Confusion • Classroom Crack-ups! • Confessions of a Sponge • Crime and Funishment • Dancing With The Star • Deep-Sea Tales • Don't Pencil Me In! • Don't Rock the Boat • Demolition Derby • Fearless • Find It! • Fish Happens! • For the Love of Bubbles • Food Fight! • Go, Graduate! • Good Ideas...and Other Disasters • Grand Prize Winner! • Good Ideas... and Other Disasters • Hands Off! • Haunted Houseboat • Hall Monitor • Hide and Sneak • Hooray for Dads! • I Ripped My Pants! • Ice Cream Dreams • Ice Cream Time • It's a SpongeBob Christmas! • In a Fix • Jokes from the Krusty Krab • Krabby Patty Caper • Krusty Krab Adventures • Lunch Rush • Mistaken Identity • Man Sponge Saves the Day • Mother Knows Best • Moms Are the Best! • Merry Christmas, SpongeBob • Nautical Nonsense: A SpongeBob Joke Book • New Student Starfish • Pirates of Bikini Bottom • Pest of the West • Ripped Pants • Rock Stars! • Rub A Dub Dub • Salty Sea Stories • Scared Silly! • Special Delivery! • SpongeBob Airpants: The Lost Episode • SpongeBob and the Princess • SpongeBob DetectivePants: The Case of the Missing Spatula • SpongeBob Goes Green! • SpongeBob Goes to the Doctor • SpongeBob JokePants • SpongeBob PartyPants • SpongeBob, Soccer Star! • SpongeBob SquarePants Joke Book • SpongeBob SquarePants Trivia Book • SpongeBob SquarePants: The Essential Guide • SpongeBob LovePants • SpongeBob SpookyPants • SpongeBob RoundPants •SpongeBob's Book of Excuses • SpongeBob's Runaway Roadtrip • SpongeBob's Secret Valentine • SpongeBob's Slap Shot • SpongeBob SquarePants Easy Sudoku Puzzles 1 • Sponge On The Run! • Spongezilla Attacks! • Stop the Presses! • Stopped Clock • Tell Me, Magic Shell • The Art Contest: No Cheating Allowed! • The Amazing SpongeBobini • The Big Halloween Scare • The Great Escape • The Great Train Mystery • The Adventures of Man Sponge and Boy Patrick in Goodness, Man Ray! • The Adventures of Man Sponge and Boy Patrick in What Were You Shrinking? • The Adventures of Man Sponge and Boy Patrick in E.V.I.L vs. the I.J.L.S.A • The Good, The Bad, and the Krabby! • The Great Snail Race • The Never-Ending Stay • The SpongeBob SquarePants Experience: A Deep Dive into the World of Bikini Bottom • The SpongeBob SquarePants Movie • The SpongeBob Movie: Sponge Out of Water: The Junior Novelization • The Annual Big Book of SpongeBob SquarePants • The Three Little Neighbors • They Blow Up So Fast • Trouble at the Krusty Krab! • Vote for SpongeBob • Where's Gary? • WhoBob WhatPants? • Yo-Ho-Ha-Ha-Ha!: A Pirate Joke Book • You're Fired! • You Snooze, You Lose • Zoo Day Disaster