Hands Off! is a SpongeBob SquarePants book written by David Lewman and illustrated by C.H. Greenblatt. It was published by Simon Spotlight/Nickelodeon on June 1, 2003. It is available in the United States and is in English, and it has 24 pages.
Plot
SpongeBob is so protective of his new Mermaid Man and Barnacle Boy Bubble Blower that he doesn't even want to take it out of the packaging. However, when his best friend, Patrick, asks if he can look after it one night, SpongeBob can't refuse. SpongeBob tries to trust his friend, but his curiosity gets the best of him, and chaos soon follows.
Translations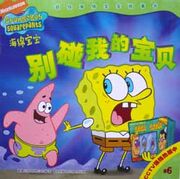 Trivia
There is a part similar to "The Secret Box" where SpongeBob breaks into Patrick's rock.