If you were looking for the article about the DVD, then see Halloween.
If you were looking for the article about the holiday, then see Halloween (holiday).
Halloween is a SpongeBob SquarePants VHS tape that contains 3 episodes from season 1 and 2 episodes from season 2.
Episodes
Trivia
This is the first SpongeBob VHS tape to be holiday themed.
This is also the first SpongeBob VHS tape that only features the first 5 episodes from the Halloween DVD, without having another VHS tape with the remaining episodes from the DVD.
This VHS tape includes previews for other Nickelodeon material and a promo for Nick Jr. tapes, the home video trailer for Jimmy Neutron: Boy Genius, and a teaser for Charlotte's Web 2: Wilbur's Great Adventure. This makes it the rarest SpongeBob video to date.

This and the Sea Stories tape are the only SpongeBob tapes to have a promo for a Nick Jr. product.
The DVD version lacks these previews.

This VHS tape (along with its DVD counterpart) were released on the same day "Bubblestand" and "Ripped Pants" premiered in Germany.
Commercial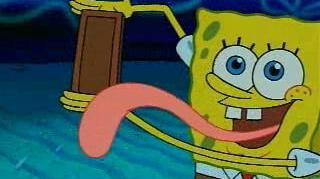 Ad blocker interference detected!
Wikia is a free-to-use site that makes money from advertising. We have a modified experience for viewers using ad blockers

Wikia is not accessible if you've made further modifications. Remove the custom ad blocker rule(s) and the page will load as expected.