If you were looking for the article about the holiday, then see Halloween (holiday).
If you were looking for the article about the VHS tape, then see Halloween (VHS).
"It is I, Kelp-Thing! Do what I do!"

This article is in need of a better quality video. Please help Encyclopedia SpongeBobia by uploading a better video.
Please remove this message when finished.
Halloween is a Halloween-themed SpongeBob SquarePants DVD that contains a total of ten episodes. It features three episodes from season 1, five episodes from season 2, and two episodes from season 3.
Cover
The front shows the SpongeBob SquarePants logo alongside a "Nickelodeon DVD" logo. There is also a logo with text at the bottom that says "5 spooky sea tales." It also shows SpongeBob standing next to a giant Jack-o-Lantern in his living room that he carved.
Episodes
Bonus features
Music Videos
Sneak Peeks
Trivia
Errors
Alternate covers
DVD Menu
Commercial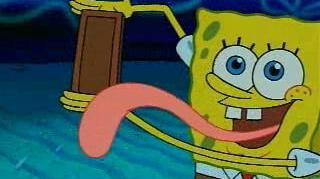 Ad blocker interference detected!
Wikia is a free-to-use site that makes money from advertising. We have a modified experience for viewers using ad blockers

Wikia is not accessible if you've made further modifications. Remove the custom ad blocker rule(s) and the page will load as expected.