If you were looking for the article about the VHS tape, then see Halloween (VHS).
"It is I, Kelp-Thing! Do what I do!"

This article is in need of a better quality video. Please help Encyclopedia SpongeBobia by uploading a better video.
Please remove this message when finished.
Halloween is a SpongeBob SquarePants DVD that contains a total of 10 episodes. It features 3 episodes from Season 1, 5 episodes from Season 2 and 2 episodes from Season 3.
Cover
The front shows the SpongeBob SquarePants logo with text at the bottom that says: "5 spooky sea tales" and a giant Jack-o-lantern with SpongeBob in his living room.
Episodes
Bonus features
Music Videos
Sneak Peeks
Trivia
Errors
Alternate covers
DVD Menu
Commercial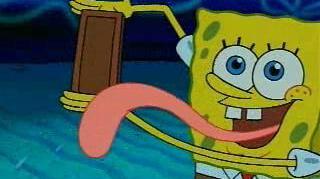 Ad blocker interference detected!
Wikia is a free-to-use site that makes money from advertising. We have a modified experience for viewers using ad blockers

Wikia is not accessible if you've made further modifications. Remove the custom ad blocker rule(s) and the page will load as expected.