Grouchy Snailitis
Type:
Disease
Appearance:
"Once Bitten"
Grouchy snailitis is a snail disease cause by a splinter. It is only seen in the episode, "Once Bitten."
Description
It is a disease caused by a splinter pricking part of a snail's skin. It can be diagnosed by a S.D.E. or S.E. expert, such as Dr. Gill Gilliam.
History
It is only seen in the episode, "Once Bitten." In the episode,
Gary the Snail
contracts the disease, causing a rampage of him around town, biting people with a supposed "mad snail disease." It is revealed later in the episode, that Gary only has
grouchy snailitis
.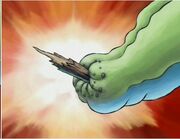 Contractors
It has only been identified in Gary. It was diagnosed by Dr. Gill Gilliam, SDE, SE.
| | |
| --- | --- |
| | "We paid ten dollars for this?" |
Ad blocker interference detected!
Wikia is a free-to-use site that makes money from advertising. We have a modified experience for viewers using ad blockers

Wikia is not accessible if you've made further modifications. Remove the custom ad blocker rule(s) and the page will load as expected.