Online game
Gary's Great Break is a SpongeBob SquarePants online game.
Gameplay
Gary is hungry, but the jellyfish are blocking him from his food bowl. Help Gary get rid of the jellyfish by bouncing a ball back and fourth on the screen. You'll move to the next level when the ball touches Gary's food. As you progress, more rows of jellyfish appear. The highest it goes to is 4 rows of jellyfish. The game ends when Gary has lost all his lives.
Playable characters
Non-playable characters
Walkthrough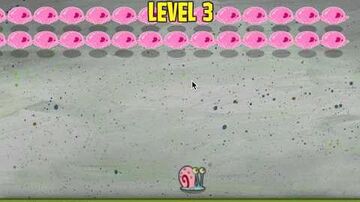 Trivia
Each row has 14 jellyfish.