Eugene The Cashier
Comments

0
7,037pages
on ESB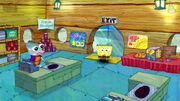 Eugene The Cashier is a character featured in the video game Employee of the Month.
Appearance
He is rather nerdy-looking, with glasses and random big teeth. He must be quite old, because he owns a Boatcar.
Biography
He works at the Barg'n-Mart as a cashier. He gave SpongeBob free Urchin Chips for washing his boatcar.
Trivia