| | |
| --- | --- |
| | "I can't hear you! It's too dark in here!" |
Reference(s) needed for name(s) and character relations

This character article is in need of a episode reference(s) to indicate where the character(s) name(s) and family relationships came from. Please add them where needed, or make the necessary changes to fix incorrect information.
Please remove this message when finished.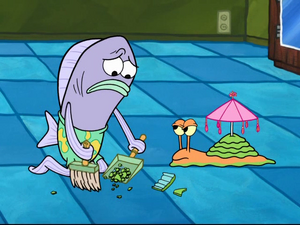 Ed the Snail is a snail who only appeared in the episode Shell Shocked. In a commercial, Scooter broke Ed's shell, so he decided to go to Angry Jack's Shell Emporium to attempt to purchase a replacement. Ed is an orange snail that has black pupils and a pink umbrella on his shell that was in place of his shell.
| | |
| --- | --- |
| | "We paid ten dollars for this?" |