ESB:Wikia tour/Main Page
Talk

0
7,339pages
on ESB
This page is part of the Wikia tour.
The content below is from Main Page on this wiki. This is the main page of the SpongeBob SquarePants Wikia. In case you don't know who it is, SpongeBob SquarePants is a fictional character, the namesake of the Nickelodeon animated series that began on May 1, 1999. SpongeBob lives and works in the fictional city of Bikini Bottom, which is located in the Pacific Ocean.
The main page includes links to the main areas of the site, the article count, and also some help pages for contributors. Every day, if an event occurred on that day, it will automatically appear in the "On This Day" section of the main page.
ESB:Wikia tour/Main Page/network
COUNTDOWN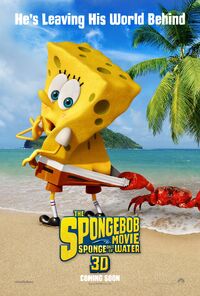 The SpongeBob Movie: Sponge Out of Water hits theaters in...

---
An error occurred,
Data:Countdowns
doesn't have a record for a page with this name:
Please copy the page name written above and go to
Data:Countdowns
for more info.
---
The SpongeBob Movie: Sponge Out of Water in theaters February 6, 2015.

See The SpongeBob Movie: Sponge Out of Water for more information and updates.
ESB:Wikia tour/Main Page/portalskin
ESB:Wikia tour/Main Page/nickipedia