Unofficial Guideline

---

This page documents an unoffocial Encyclopedia SpongeBobia guideline. While the things in this guideline have not been officially adopted by discussion, this is a general guideline to show editors how articles are formatted.
Encyclopedia SpongeBobia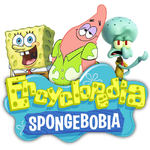 General
Policies
Community
Report problems
Manual of style
Administration
Nominations
Social chatrooms
Other
Main page
This is an unofficial guideline page for music.
General
There are 3 main categories for music:
Associated production music - production music as used in the series.
Songs - specific songs as used in the series.
Albums - merchandise relating to music.
Associated production music
Songs
Song articles must contain the following:
Infobox
Use the following on song articles and fill out all the information:

{{Song
|title = 
|image = 
|image size = 
|writer = 
|performer1 = 
|voice1 = 
|performer2 = 
|voice2 = 
|performer3 = 
|voice3 = 
|performer4 = 
|voice4 =
|performer5 =
|voice5 =
|performer6 =
|voice6 =
|episode = 
|recorded = 
|released = 
|length = 
|watch = 
}}

Rest of the article
Head describing the song and its usage in the series
Lyrics
Music video or link to music video
Albums
Infobox
List of songs contained on the album