Dee Bradley Baker
Talk

0
5,961pages on
this wiki
Dee Bradley Baker |Name = Dee Bradley Baker |Image =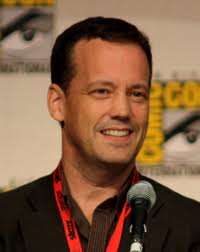 |Credits = Actor, voice artist, singer, comedian |Years = 1999 - present |Portrays = Squilliam Fancyson
Bubble Bass
Perch Perkins
Mr. Krabs (singing voice in Christmas Who?)
George the Zebra
What Zit Tooya
Le Spatula
Mr. Bakerman
Raarg
Globulous Maximus
Awesome Eddie
Monty P. Moneybags
The Janitor
Camp Counselor Kraus
Snellie the Snail
The Rock Bottomites
Frogfish
King Fish
Sandals J. Fishbowl (The SpongeBob SquarePants Movie only)
Phil
The Abominable Snow Mollusk
The Alaskan Bullworm
The Earworm
The Sea Rhinoceros
Harold (only some of his appearances, like The Fry Cook Games
Tom Smith (only some of his appearances, like Chocolate with Nuts)
Sheldon J. Plankton (singing voice for Oh, My Karen)
Fred (only some of his appearances, like Ripped Pants)
Kevin C. Cucumber
Queen Jellyfish
Don the Whale (Lights, Camera, Pants! only)
Dolphin Warrior
Additional voices|Born = August 31, 1962 (age 51)
Bloomington, Indiana |Gender = Male}} Dee Bradley Baker (born August 31, 1962) is a SpongeBob SquarePants cast member. He has the ability to make many different voices, and does unique sounds. He has also done voices in many other shows such as: Avatar: The Last Airbender, Codename: Kids Next Door, Phineas and Ferb, Animaniacs, Adventure Time with Finn and Jake, American Dad!, Ben 10, Star Wars: The Clone Wars, Halo, Gears of War, Portal 2, Left 4 Dead, and The Legend of Korra. He has been working since 1992. For more info on Dee Bradley Baker's SpongeBob roles, see here.
Biography
Wikipedia may have more biographical information on this person. Please see Wikipedia's article here. He and his wife Michelle have two daughters, Josie and Cora.
External links
Dee Bradley Baker on Wikipedia