Davy Jones' Locker is a locker full of smelly gym socks on the SpongeBob SquarePants television series. It appears in Born Again Krabs and SpongeBob SquarePants vs. The Big One.
Biography
Davy Jones' locker is just a regular gym locker that is filled with smelly socks. In the episodes it appears it seems to have green goo at the bottom of it. The purpose of it is to torture whoever is in it but it is most likely a notorious bad place for sea creatures.
Folklore
The legend of "Davy Jones' Locker" has existed in nautical folklore for many years, the first record being in 1726. In actual folklore, "Davy Jones' Locker" is a phrase meant to refer to the bottom of the sea, where drowned sailors and wrecked ships end up. The name "Davy Jones" is likely a reference to the ghost of Jonah, the biblical figure who was swallowed by a giant fish, and was released by God after praying to be rescued. However, the SpongeBob SquarePants series takes a different route, and uses the Monkees singer of the same name.
Appearances
Trivia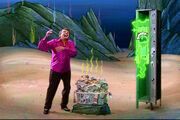 The only person seen taken to Davy Jones' Locker is Mr. Krabs but he is not put in.
SpongeBob is taken to Davy Jones' Locker in Born Again Krabs but he is not seen being put in the locker so it is possible that he was not put in the locker either.
If Davy Jones was the official owner of Davy Jones' Locker that would mean that as of SpongeBob SquarePants vs. The Big One the Flying Dutchman stole Davy Jones' Locker from Davy Jones.
The Locker from Squidward in Clarinetland is shorter, and a bit fatter in that episode. However, they are 2 separate lockers, and could have been forged from different places.
In Plankton's Robotic Revenge, the fourth level of Dutchman's Triangle has the exact same name.