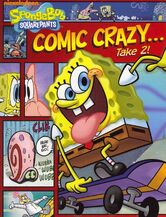 Comic Crazy: Take 2 is a SpongeBob SquarePants comic compilation. It is the sequel to Comic Crazy!, which features comics such as Turbo Snail, The Big Race, Molt Jolt, Krusty Karen, Accept No Substitutes, and others from Nickelodeon Magazine. It was released on May 27, 2010.
Trivia
This comic was released three years after Mistaken Identity was released.
On the reissue cover, the new Nickelodeon logo appears. While on the original one, it was the Splat logo.
| | |
| --- | --- |
| | "We paid nine dollars for this?" |
Ad blocker interference detected!
Wikia is a free-to-use site that makes money from advertising. We have a modified experience for viewers using ad blockers

Wikia is not accessible if you've made further modifications. Remove the custom ad blocker rule(s) and the page will load as expected.