This is the page about the fancy fish. For other uses, see Charles (disambiguation).
| | |
| --- | --- |
| | "I can't hear you! It's too dark in here!" |
Character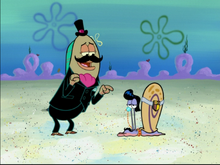 Charles is a wealthy man. He won the Bikini Bottom Pet Show five times in a row until SpongeBob won the competition in the episode, "Grooming Gary." Charles has a top hat, a tuxedo, and a parasol. Charles tells SpongeBob the only way to prove your pet's beauty is to win the pet contest.
Quotes
"Come on now, Foof."
"Does anyone speak Snail?"
"At least I know you wouldn't act like any of these heathens, right, Foofie?"
"Wake up, Foofie."
"Nyaw..."
Trivia
See also
Foofie