Canned Bread
Talk

0
6,584pages
on ESB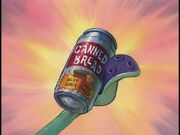 Canned Bread is bread packed conveniently in a can. It is one of Squidward's favorite foods to eat. The label reads "Best Thing Since Sliced."
History
The bread is known to be sold at the store, Full of Health, in Tentacle Acres, as seen in "Squidville." The rights to Canned Bread are owned by Barnacle Products Incoporated after they bought them from an unknown source.
The canned bread product makes a cameo appearance in "Atlantis SquarePantis," in Squidward's painting, though in a different type of can.
Trivia
Canned Bread is a real life product in Japan, and can also be found in select stores in the United States.
Squidward also loves Swedish Barnacle Balls, which is also a canned food product.
Canned Bread has become a popular Internet meme.
Canned Bread is also pretty similar to Canned Coral as they are both food items which are served in cans.
Gallery