"

Eat Barnacle Chips: they're delicious!

"
 
Barnacle Chips are a popular brand of potato chips. They are known for selling millions of bags a day. SpongeBob says they are "most certainly not delicious" and Patrick says they are delicious the way he uses them. It first appears in the episode "Chocolate with Nuts." They appear once again in Burst Your Bubble.
Description
The bag is orange-red with white edges with capitalized light green letters that say "Barnacle Chips." The billboard has pink and light purple bursts. Both bursts have blue capitalized letters. The pink one says "Eat" while the purple one says "They're Delicious." The billboard also shows the actual chips and their logo, which can be read about below.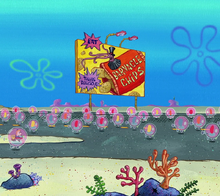 Advertising and marketing
It is shown that they "stretch the truth" so people would buy their chips. This inspired SpongeBob and Patrick to use this strategy which actually became successful. Since the company was so successful, it spreads into products into other places. They used billboards to advertise their product.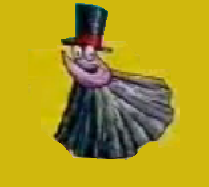 Logo
Their logo is a portrait of Barnacle Products Incorporated's mascot, Mr. Barnacle. In the logo, Mr. Barnacle is wearing a black cape and a black top hat with a red band.
Trivia
The Barnacle Chips billboard is seen in the background in the episode "Burst Your Bubble" when SpongeBob and Mrs. Puff enter the highway.
Ad blocker interference detected!
Wikia is a free-to-use site that makes money from advertising. We have a modified experience for viewers using ad blockers

Wikia is not accessible if you've made further modifications. Remove the custom ad blocker rule(s) and the page will load as expected.