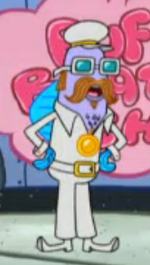 Andy Samberg (born August 18, 1978) is an American actor, comedian, voice actor, writer, rapper, and member of the comedy group The Lonely Island. He is known as a cast member on Saturday Night Live (2005–2012), where he and The Lonely Island have been credited with popularizing the Emmy-winning SNL Digital Short, the comical short films and music videos starring Samberg and other members of the SNL cast. 
As a film actor, Samberg has starred in Hot Rod, Space Chimps, That's My Boy, and Celeste and Jesse Forever, and appeared in Nick and Norah's Infinite Playlist, I Love You Man,Cloudy with a Chance of Meatballs, Friends with Benefits, Hotel Transylvania and What's Your Number?. He voiced Colonel Carper in the SpongeBob SquarePants eighth season episode "Hello Bikini Bottom!" He also appeared in the Patchy the Pirate segments of "Truth or Square." In addition, he plays the main character in Brooklyn Nine Nine.
Ad blocker interference detected!
Wikia is a free-to-use site that makes money from advertising. We have a modified experience for viewers using ad blockers

Wikia is not accessible if you've made further modifications. Remove the custom ad blocker rule(s) and the page will load as expected.