Alternate-Universe Squidward
Talk

0
5,649pages on
this wiki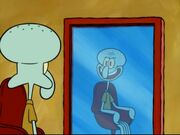 Alternate-Universe Squidward is a creature whom looks exactly like Squidward Tentacles, except he is confined within mirrors. He is only seen in the episode Squidward in Clarinetland. It is unknown what universe he is in, although it is likely that he is in the same universe as Alternate-Universe SpongeBob and Alternate-Universe Patrick. Alternate-Universe Squidward doesn't seem to like Squidward. It is unknown if he was an illusion, or a reality.
Another alternate-universe version of Squidward (possibly the same one) appeared in The Algae's Always Greener - with a much larger role. He is not in the mirror, but instead the Squidward in the "alternative-universe" that Plankton visits.
Trivia
Like the Mirror Monster, Alternate-Universe Squidward may be based off a theory on how the mirror world is filled with evil and demons.