スポンジ・ボブ is the Japanese dub of SpongeBob SquarePants. There are two dubs of the show. The first dub is season 1-3, and the second dub is season 4-8. In the second dub, the voice actors of SpongeBob, Sandy, and Plankton are different. It is part of the International SpongeBob SquarePants.
Character translations
Voice cast
Changes
Squidward's name is changed to Ikardo, a pun on the Japanese translation for Ricardo, "Rikarudo."
Bikini Bottom is called Bikini Town (ビキニタウン).
For the 2nd dub, the theme song is in a higher key.
The Krusty Krab is renamed カニカーニ (Kanikāni).
Krabby Patties are renamed カーニバーガー (Kānibāgā).
Episode name changes
Season 1
Season 2
Season 3
Season 4
Season 5
Season 6
Season 7
Season 8
Intro
Trivia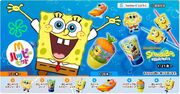 Patrick, Plankton, and Mermaid Man are given female voice actors in the series.
Mr. Krabs is called "Kani-san" in the dub. "Kani" is Japanese for "crab," and "-san" is a suffix attached to the end of a married male to refer to them in a formal way in Japan.
Likewise, Ms. Puff's Japanese name, "Puff-sensei," has the suffix "-sensei," which is attached to the end of a teacher's name to refer to them formally in Japan.
"Big Pink Loser" and "The Great Snail Race"'s Japanese titles both have the term "Ganbare," which means "go for it." Both, especially The Great Snail Race, titles could be a reference to the Konami video game series Ganbare Goemon.
A Japanese advertisement for SpongeBob toys in the Happy Meal in McDonalds Japan became an internet meme, because the commercial stars some kids who try some toys and have bizarre reactions.
External links
Ad blocker interference detected!
Wikia is a free-to-use site that makes money from advertising. We have a modified experience for viewers using ad blockers

Wikia is not accessible if you've made further modifications. Remove the custom ad blocker rule(s) and the page will load as expected.